Keen to try a new pesto version? This vegan and oil-free avocado pesto has become a staple in my diet. This version is as good as the traditional one and full of good fats that your hormones will benefit from! On top of that, it only takes 5 minutes to make!
Pesto pasta has always been one of my very favorite dishes but when I realized how much oil was in there, I had to find a healthier version (olive oil is healthy but too much can be too much, you know?).
After trying several things, mixing up different ingredients, I came up with this avocado pesto that I am now obsessed with!
You'll thank me later :p
🌱  Rich in omega 3s
🌱  Source of fiber
🌱  Anti-inflammatory properties
 20g fresh basil leaves
½ avocado (or 1 small)
1 garlic clove
25g walnuts
25g cashews
40g unsweetened soy or coconut yogurt
50ml water
Nutritional yeast to taste (optional)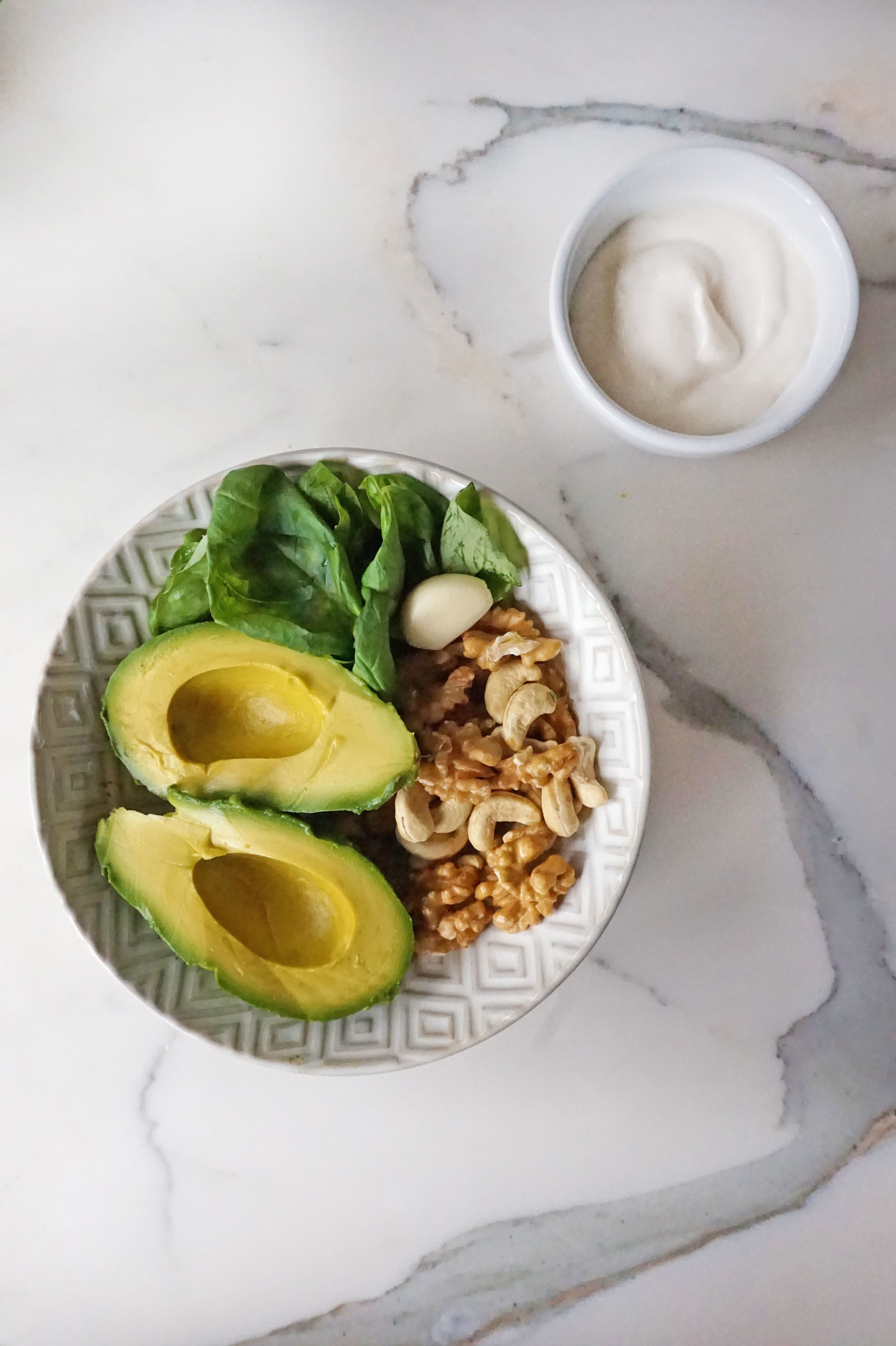 Step 1
Put all ingredients (except water) into mixer or blender.
Step 2
Mix everything together and start pouring the water into the mixture until reaching the desired consistency. You don't have to include the amount recommended and can obviously add more if you want a more fluid result.
Step 3
It is THAT simple! Serve it with your favorite pasta (use whole wheat for a healthier option) or top on bread with tomato for a revisited bruschetta.
The choice of nuts for the recipe will depend on your personal taste. The traditional pesto recipe is made with pine nuts, but it can get expensive if you make pesto on a regular basis like me!
As for the nuts, you can replace basil with spinach, rocket or any other greens you fancy
If you don't mind using oil, don't hesitate to add olive oil to the mixture to bring a Mediterranean touch to it
You can keep your avocado pesto in the fridge for about 3 days. It will probably go darker because of the avocado but will still taste fine. Otherwise, it also freezes very well!