Hey ladies! Today, I am sharing with you my thoughts on four products from the Garnier Organic range.
It's only when I started getting hormonal acne that I started paying attention to what my cosmetics composition.
Did you know that some toxic components such as bisphenols A, chlorophenols, benzophenones and parabens can affect hormonal balance?!
However, finding natural skincare that doesn't cost a leg can be tough. Especially when you're new to it and have no idea what to go for.
Which store sells natural products?
Which products should I try?
Oh and what if my skin doesn't react well to it?
*gets anxious*
So, when I saw Garnier releasing its organic range, I was like… that's interesting!
Garnier is a brand I've always used and that works for me. So hey, I didn't think twice when I saw these beautifully packaged products at my grocery store. And obviously, I had to share this finding with you!
The brand's commitments
For this organic range, Garnier got certified and commits to "care for people and planet".
The products are certified by Ecocert Greenlife according to COSMOS standards. It guarantees the absence of petrochemical ingredients and GMO, an environmentally friendly production, and recyclable packaging. More information here.
At least 95% of the ingredients used in each product are natural
Star ingredients (lavender, argan, thyme, and aloe vera) are fairly traded with respect for biodiversity and ensuring producers a fair wage
Garnier Organic range is vegan

and

cruelty-free
A plant for every skin type
Garnier selected plants that benefit every skin type differently :
Argan oil, known for its nourishing properties, is recommended to dry and sensitive skin
Lemongrass, which helps to detoxify, is aimed to normal to combination skin
Thyme, appreciated for its purifying qualities, is recommended to combination/oily skin
Lavandin, known for its anti-aging qualities, suits all skin types, including sensitive ones
My skin changed a lot since going off the pill. It used to be very oily before. Now, I consider it normal so my choice went for the products with lemongrass and lavandin.
Garnier organic: Review of the products
Since I was aiming to review the products for you, I made sure to use these products for at least 3 months before doing this Garnier organic review. 
Lemongrass Daily Moisturizer
The moisturizer is made of Organic Lemongrass and enriched in Organic Aloe Vera and Vegetable Glycerin. It's aimed to hydrate and mattify the skin.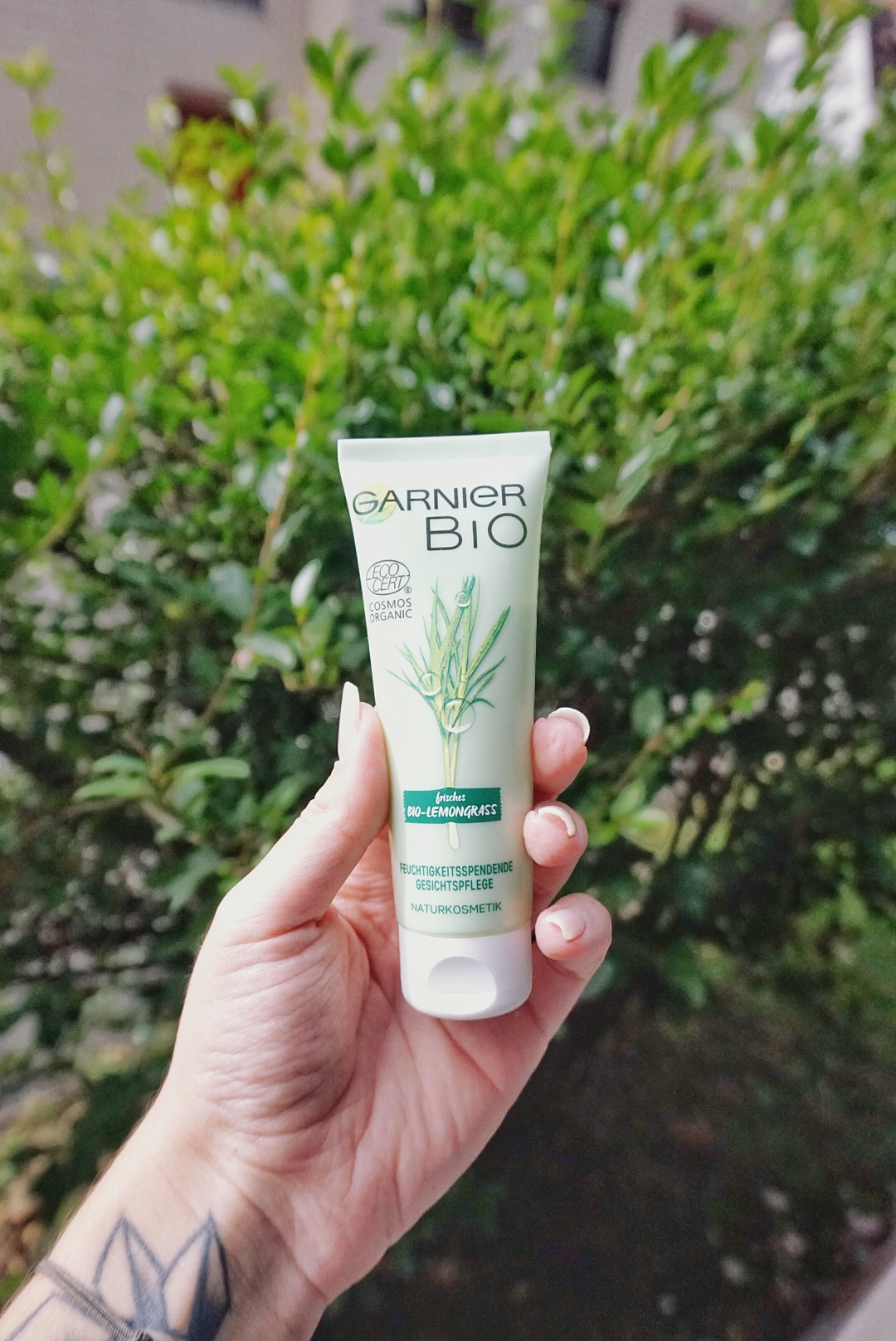 The formula of this moisturizer is pretty lightweight which I appreciate.
However, I don't feel my skin hydrated enough, unless applying it twice – but that's obviously not the goal.
You might also want to know that I used it during fall/winter season when the skin is on the drier side.
It could actually work well on warmer/humid climates and on combination to oily skins. There's nothing to be said about the composition but because of the above reasons, I don't recommend it.
If you have oily skin and want a light moisturizer for summer, you might want to try it for yourself.
Lemongrass Detox Gel Wash
The gel wash is infused with Organic Lemongrass Essential Oil and enriched with Organic Argan and Vitamin E. It's aimed to eliminate excess sebum and purify the skin.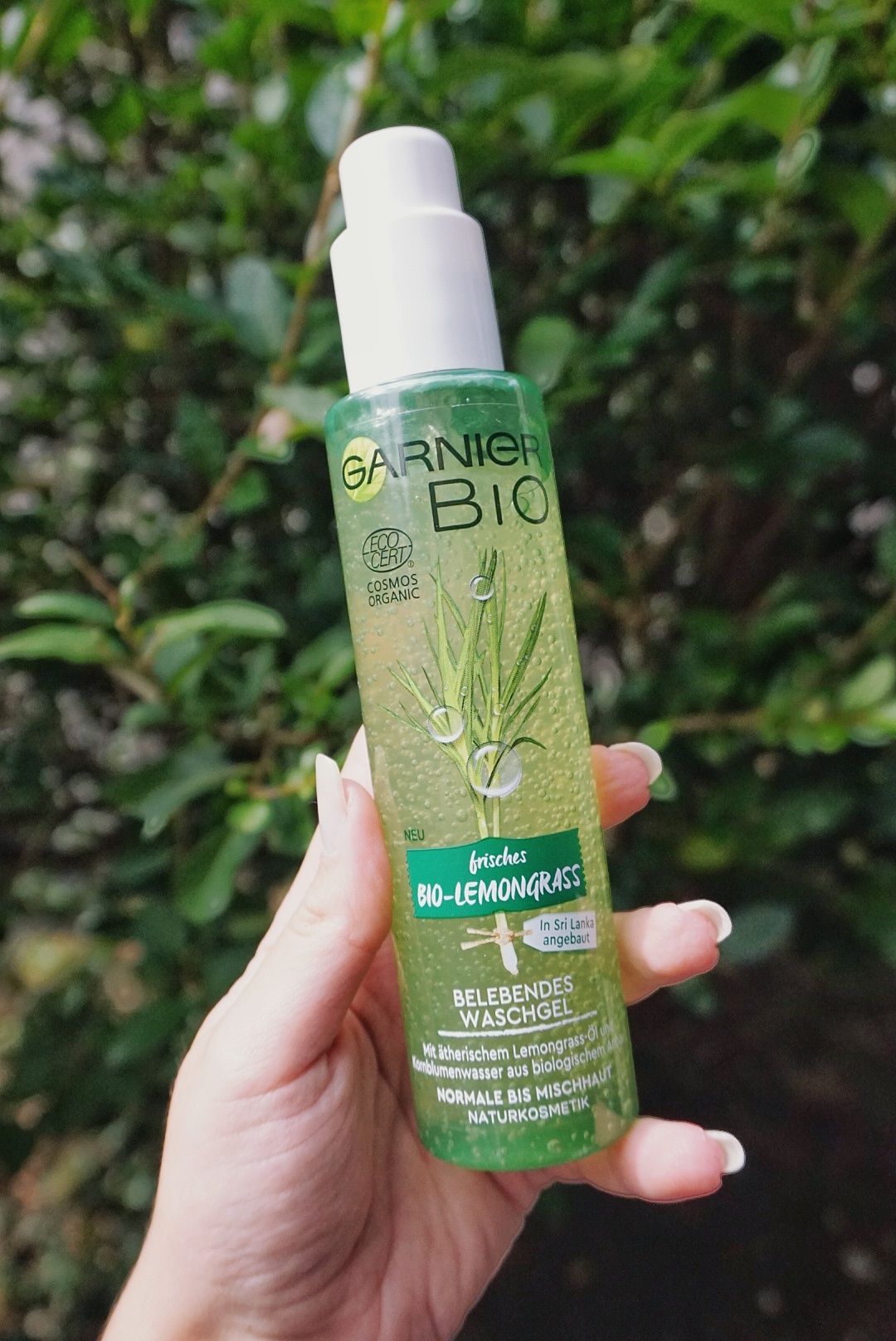 This is a gentle smooth gel which isn't aimed to exfoliate. It's the kind of cleanser you want to use with a cleansing brush. I use every day it with my Remington Reveal Cleansing Brush and I love it!
It doesn't dry my skin out and I definitely feel a fresh and clean sensation after using it. Also, the scent is super refreshing!
Regarding the composition, I saw the presence of salicylic acid which might be an endocrine disruptive.
Despite of that, I do recommend it because it's so gentle in the skin and the fresh feeling after using it is a vibe.
Lavandin Anti-Wrinkle Day Cream  
The moisturized is infused with Organic Lavandin and enriched with Organic Argan and Antioxidant Vitamin E. It's aimed to smooth the skin and make wrinkles less apparent.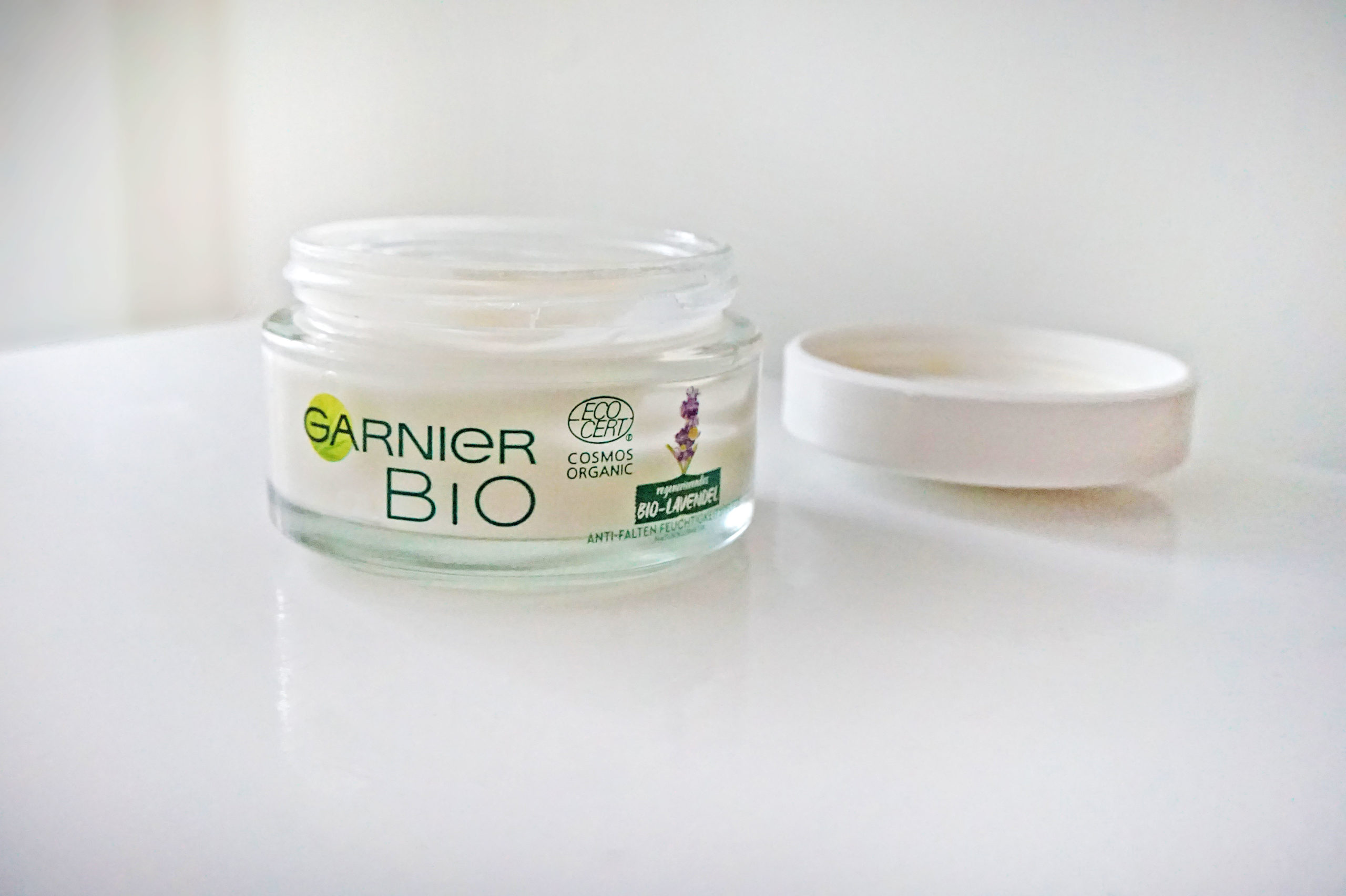 After finishing the lemongrass moisturizer, I got this anti-age day cream since it appeared much richer.
I wasn't wrong, the cream hydrates a lot.
The rich texture doesn't bother me* since it's pretty much all I wear on a daily basis (I don't wear a lot of makeup).
If you do, I recommend you waiting 1-2 minutes before applying your foundation. It will enable the cream to set and prevent a sticky feeling when applying your makeup.
I really like my skin texture once I apply this day cream and there's nothing wrong with the composition.
*Update : Using it on summer, it felt a little bit too heavy on my face. But I still love and use it for winter!
I do recommend it for winter and women with dry skin. I love how hydrating it is and hey, it's good for the wrinkles!
Lavandin Glow Facial Oil
The oil is infused with Organic Lavandin and enriched with Organic Argan and Vitamin E. It's aimed to smooth + nourish the skin and improve its texture.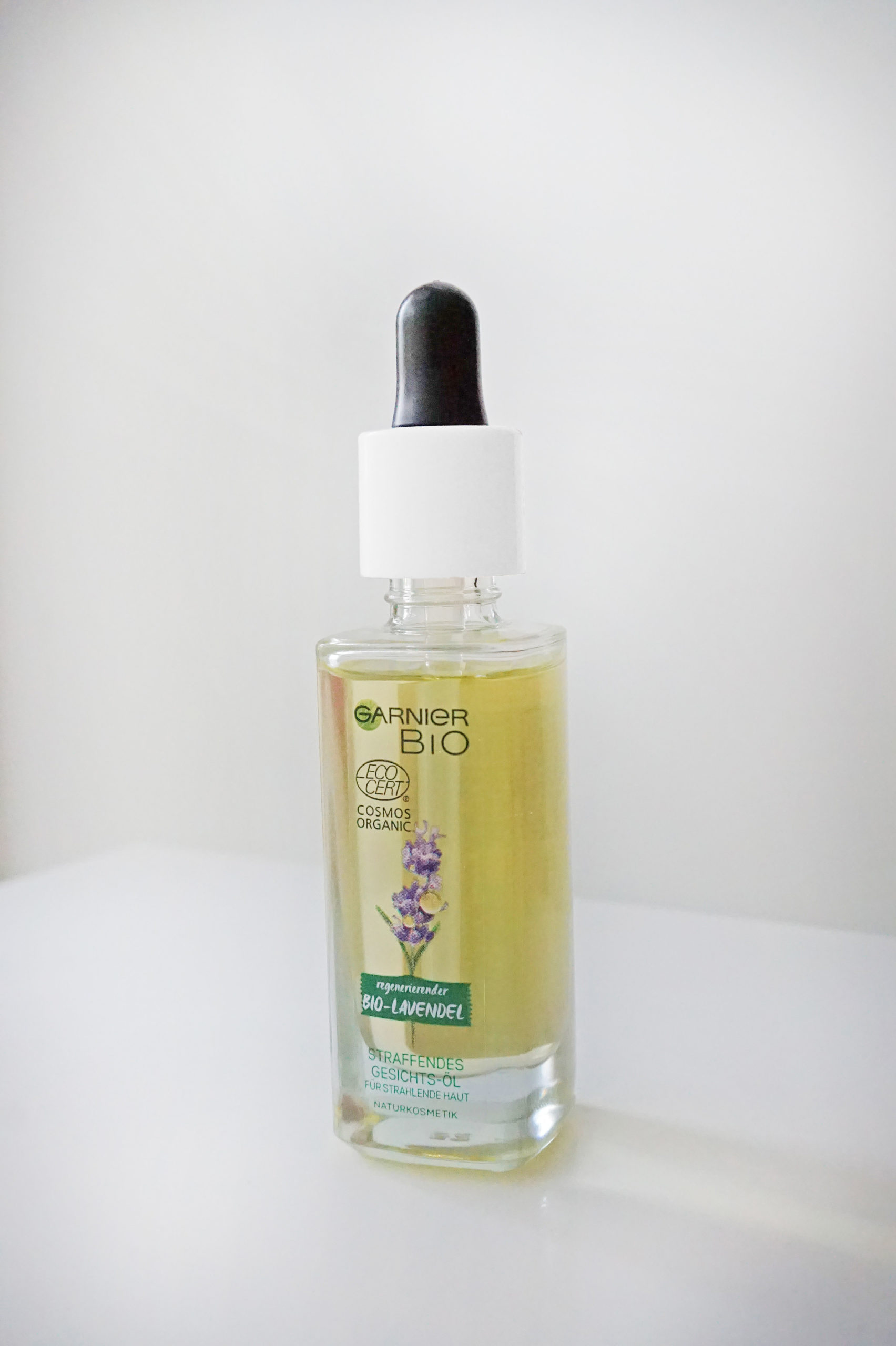 Last but not least, this is my favorite product of them all!
I love this facial oil and it's the only thing I apply after cleansing my face at night – that's all I need which is so convenient!
It hydrates my skin perfectly and makes my face feel sooo soft when I wake up the morning after. Composition is ok as well.
I love it and keep buying it again and again. So yes, I recommend it more than any other product. It literally makes you feel like you have an expensive oil on when it's less than 30 bucks! And let's be honest – who doesn't like that?
Garnier Organic Review : Final Thoughts
It is no surprise, I'm completely convinced by the range. The only product I won't buy again is the Lemongrass Daily Moisturizer because I like to feel super hydrated.
Other than that, you might want to know that these products smell pretty strong.
To me, it smells amazing and fresh! But if you're sensitive to strong scents, you might be put off by the essential oils scent.
Since I shared my struggles with hormonal acne, you might wonder if using these products improved my skin.
And yes! My skin did improve since I started doing this routine. And I'm so happy about.
However, even though I believe in the benefits of this organic range, I can't give them all the credits for my skin improvements.
Getting rid of my acne and having a smoother skin texture is the result of all the work I've been putting to have a healthier lifestyle. If you want to know how I balanced my hormones and got rid of hormonal acne, I share everything in this article.
Do you use natural cosmetics? Let me know your favorite brands/products in the comments below!