Mindvalley is an online personal development platform that will teach you how to know yourself, love yourself, and evolve in different areas of your life.
In this blog post, I am sharing with you my Mindvalley review and how the platform helped me grow (and how it can help you too).
What is Mindvalley?
Mindvalley is an online learning platform that brings together programs to help you transform your life.
The platform offers courses in the area of personal development and has over 10 million students worldwide.
If so many people are following these programs, it's probably because they cover topics that are relevant to all of us at some point in our lives (and topics we are never taught about in school lol).
Program Categories
Mindvalley's programs are divided into 7 categories:
Mind (self-confidence, personal development)
Body (sports, nutrition, performance)
Soul (spirituality, abundance, energy)
Entrepreneurship (money, leadership, branding)
Relationships (love, intimacy)
Career (productivity, networking)
Parenting (education)
If you've been following me on the blog, you already know that I consider health and wellness with a holistic approach.
I am convinced that EVERYTHING is interconnected in our head and body so I love that Mindvalley does not focus on only one aspect of wellness but offers this interconnection between mind, body, and spirit.
How does the platform work?
As you've read, the platform is made up of different programs (which they call Quests) that you can complete progressively with a group of people or at your own pace.
The courses are also accompanied by exercises and workbooks so you can apply everything you learn – because that's how you'll see the best results.
But that's not all. Mindvalley also offers online workshops, meditations, visualization exercises, and a community space where all members can support and help each other.
All of this can be found directly on the website or on their app (which is really cool if you love listening to podcasts or courses while doing the dishes or while taking a walk).
Quests I recommend
As I told you before, there are many Quests available within different categories. In this section, I share with you the courses that I took and loved (and why).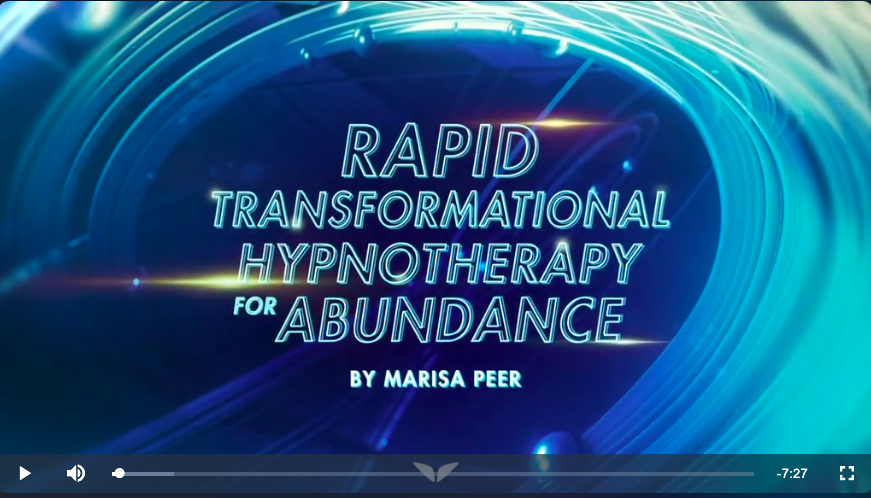 Rapid Transformational Hypnotherapy for Abundance by Marisa Peer
Marisa Peer is a hypnotherapist and is considered the best therapist in the UK. In this class, she uses hypnosis to heal past traumas.
She explains for example why we self-sabotage, where our limiting beliefs come from, and even the root of some of our illnesses (which we create ourselves with our mind – I know, wtf).
In addition to the explanations, the program includes hypnosis sessions (don't worry- you'll still be conscious) that allow you to reprogram all these beliefs to cultivate abundance, love, and self-confidence.
I already knew a little about hypnotherapy but this program is a good way to understand how it works and discover the power it can have on your life.
If you want to learn more about how to cultivate abundance in your life, you can check out the free masterclass of the program here!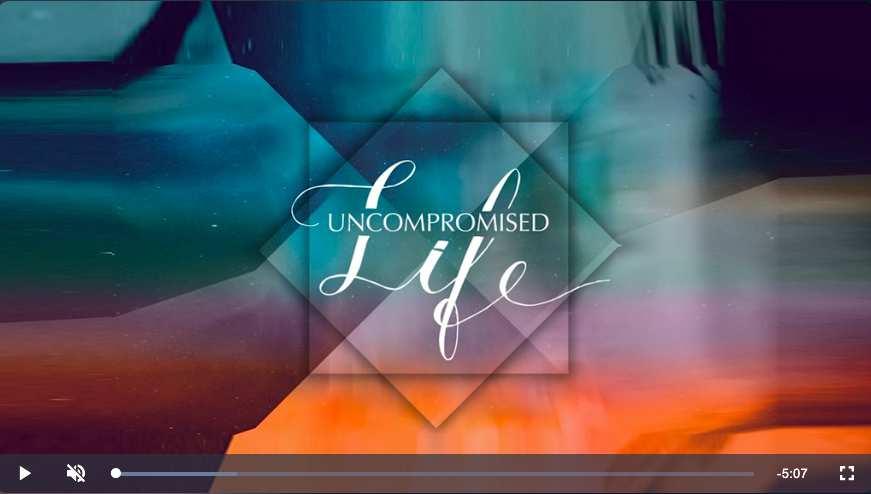 Uncompromised Life by Marisa Peer
When I finished the hypnotherapy program, I loved it so much that I had to follow Marisa Peer's second program which is "Uncompromised Life".
This Quest is more focused on our way of thinking, our fears, and everything that keeps us from living the life we really want. Marisa explains how everything we say becomes real, both in the positive and in the negative.
It is a program that will help you change the way you talk (about yourself, people, and your environment), change your habits (diet, exercise, sleep, projects), and remind you that your dream life is not that unreachable when you have the right mindset.
If you're interested in learning more, check out the free masterclass of this program here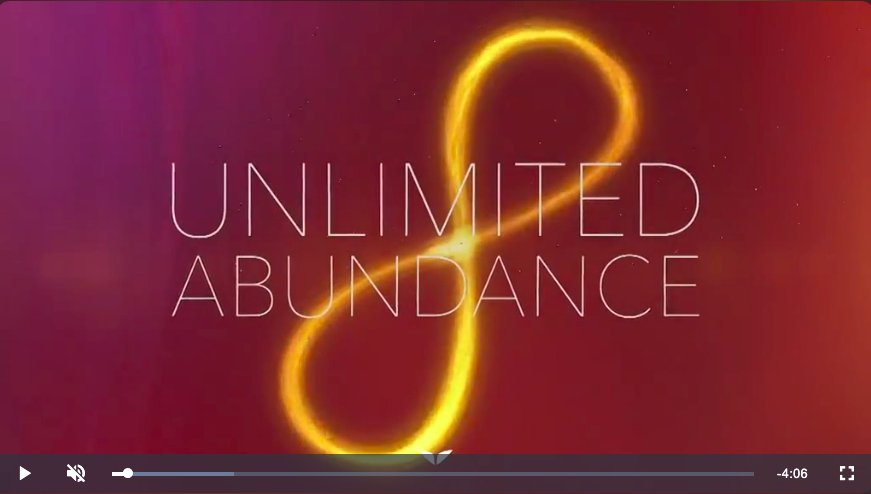 Unlimited Abundance by Christie Marie Sheldon
Christie Marie Sheldon is a life coach and energy healer who helps people "unlock" their abundance. What this means is that she helps you get rid of the blocks that you hold deep inside, the ones that prevent you from accessing your full potential and attracting opportunities and wealth.
The Quest consists of clearings which are sessions that will clear the bad energies that are holding you back, such as doubts, fears, or limiting beliefs.
This program is pretty cool because most of the work is done by her. You put on your headphones, sit or lie down and let what you hear guide you.
If you're new to this world, it might sound a little woo-woo, and you might question the accuracy – I was a bit perplexed at first, too.
But when you do the clearings, allow yourself to open up to these methods, and start to feel good, better, and more confident, you realize that the energy and subconscious work is MAGIC.
If you're interested in learning more, check out the free masterclass of this program here!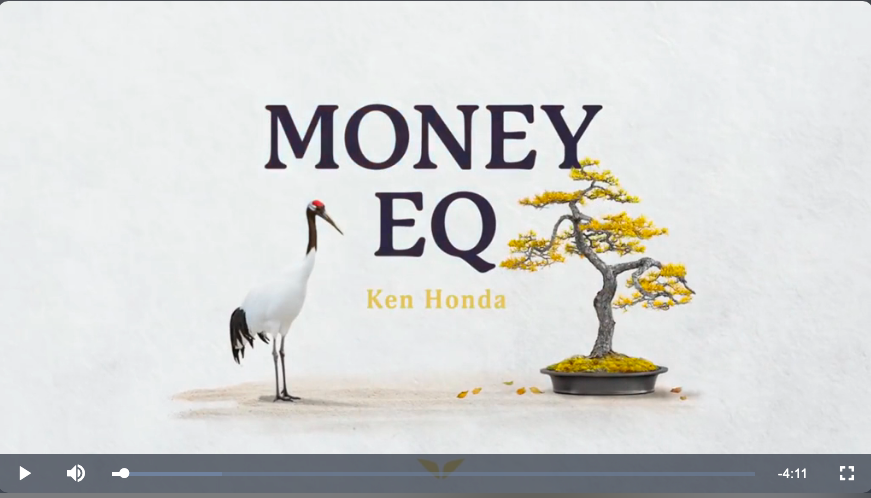 Money EQ by Ken Honda
Ken Honda is the author of the famous book Happy Money and is an expert in an area that is a problem in many lives: money.
If you're in debt, if you think money is bad, if you think you have to work hard to earn enough, or if you feel you don't have enough money, this program is a must.
A LOT of us have an unhealthy relationship with money: we don't know how to manage it, we're afraid to spend it, and we let it control our lives and our relationships.
Most of the time, these beliefs come from what we saw/heard from our parents (who were doing the best they could) during our childhood.
This program makes you realize a lot of things and makes you see money in a totally different way. If you want to start shifting your money mindset right now, you can check out the free masterclass of this Quest here.
I'm currently taking the Superbrain and Duality Quests – I'll update the article to give you my opinion 🙂
How Mindvalley has benefited me
Before I explain how Mindvalley's programs have helped me, let me tell you how I came across the platform.
This past winter, in November 2021, I had the chance to travel to Dubai. I flew with the Emirates airline and as soon as a hop on the plane, I did what everyone else does: check the entertainment on the screen in front of me.
What's cool is that the airline doesn't only offer movies, but also programs, including those of Mindvalley. As I am a big fan of wellness and personal development, I naturally chose to watch one of their courses during my flight… and wow.
Not only did I devour the program and did I not see the 6 hours of flight time go by (thank you Mindvalley), but I also learned and realized many, MANY things about my own life. I may also avec cried. Okay, I did a lot.
So with that first program I took during my flight to Dubai and all the ones I've taken since then, here's what Mindvalley has brought me so far:
1. I understood where my past and actual challenges come from.
It was something I never quite realized: the way we think today is very closely related to what we saw, heard, and experienced during our childhood (especially from age 0 to 7).
So I understood a lot about my relationships with people, with money, food, and my body. Knowing all of this beforehand would have helped me tremendously, for example, to heal my eating disorders or to improve my self-esteem.
2. I began to process my traumas
Traumas are the events that shape your childhood and affect the way you feel/think/behave throughout your life.
On Mindvalley, some programs that include hypnotherapy and clearings allow you to heal traumas by re-programming your subconscious. It is sooo fascinating and I am 100% convinced that this work is deeply effective.
3. I realized that well-being is mostly about knowing, accepting, and loving yourself.
If you know me, you already know that this is a sentence I've already said, especially when it comes to the body. To feel good about your body, you need to get to know it and understand how it works.
Mindvalley has reminded me of this through every program I've taken so far, especially when it comes to the mind. In the end, I learned that we are all unique and that this is our best asset – we just need to listen to ourselves, believe in ourselves, and know how to unfold our potential.
4. My mindset has evolved and I have more confidence in myself: in my daily life, projects, and life.
The way you think is the number one factor that determines how you live your life. Your mindset will determine your motivation to lose weight, heal, eat healthy, get up every morning to work out, develop your career, and follow your dreams.
It all starts with your mindset and the quality of your life depends on the quality of your mind. Mindvalley's programs make you realize that everything is possible and that your dream life depends on you.
Who is Mindvalley for
The programs on Mindvalley can benefit everyone. But they are not for everyone.
We ALL have traumas, limiting beliefs, and things to work on, but it takes work. It takes investment in yourself, and it requires courage to dive into those parts of yourself that aren't so fun to deal with.
Mindvalley may be an incredible platform, but it's not a miraculous resource that will bring you money, business opportunities, and amazing relationships. It's up to you to do all the work, which is honestly not always easy.
So I would say that the platform is for people who want and are ready to take charge of their lives, for real.
So it's especially for you if you want to :
Improve your mental health
Improve your physical health
Have a better relationship with money
Reconcile with your body and food
Boost your career
Launch one or more entrepreneurial projects
Stop doubting yourself and regain confidence
How much does it cost?
The platform is available on a subscription basis. When you subscribe to Mindvalley, you get access to all the programs on the platform (and in all languages) for $99/month by paying monthly or $499/year (about $41/month).
If you pay annually, you save 58% of the price!
Pros and Cons
If you're hesitating to join the platform, let me help you make your choice by listing the pros and cons I've seen during my experience.
Pros:
The courses are very qualitative. I mean, you have access to the brains of incredible people who have improved a lot of lives – it would be hard to be disappointed
There's a lot of content in addition to the Quests. In addition to the programs, the subscription also includes meditations, live chats, and workshops
Access to the community. There is an exclusive space in each program where people can meet, exchange, and motivate each other.
The app. If you're like me, you like to optimize your time by learning while doing other things: walking, doing the dishes, cleaning, or running errands. Thanks to the app, all this is possible and it's a real plus.
Cons:
The price. If you compare the price of Mindvalley to a similar platform such as Skillshare, the price may seem high. But the price can also be an incentive; the more you play, the more you'll invest, and the more you'll see results
There is no possibility to listen to all materials offline. Some audios are, some are not.
Some programs are NOT included in the subscription. This is the case for "Lifebook Online" and "Wildfit" which you have to pay separately to access.
If your mother tongue isn't English, you'll have to keep in mind that not all programs are translated into the languages Mindvalley promotes
If you're still hesitant, you can try the platform for free for 7 days by clicking here 🙂
Mindvalley review: Is it worth it?
As you may have understood from this blog post, Mindvalley brings a lot to my day-to-day life and I'm personally very happy about it. Whether it's worth it or not will depend on your situation.
What areas of your life do you need work done?
Are you willing to give it your time every day?
Are you ready to put in the work?
If you're still wondering whether you should join Mindvalley or not, I'd recommend you to try the 7-day trial and see how you like the courses. You can also join Mindvalley and stop the subscription at any time, for example when you've finished the courses you were interested in.
In and of itself, yes, Mindvalley is worth it if you are willing to put in the time and effort. In my opinion, working on yourself is the best investment you can make. Because what you learn will not only help you in all aspects of your life, but it will stay with you forever.
That's it for my Mindvalley review! I hope this article helped you and if you have any questions on the platform, the programs or the free masterclasses, feel free to leave them in the comments below🙂