This healthy Chinese noodles recipe will dissuade you from ordering from the nearby Asian fast food on a Saturday night. Simple and ready in less than 30 minutes, this meal is balanced and will benefit your health.
I am obsessed with Asian food. But unless you're on-site, it can be tough to find restaurants that offer high-quality dishes, especially if you're on a budget.
In my experience, I often ended up with dishes that missed some taste, were too oily, or where the freshness of the products was questionable.
For this reason, when I crave Asian noodles, I make them at home. The recipe I'm showing you today requires little oil, and the veggies are cooked following the blanching method.
This culinary technique consists of briefly cooking vegetables in boiling water, and then dive them into iced water. That enables you to prepare your veggies really fast and keep their crunchiness and vivid colors.
Believe me when I say that I usually don't like broccoli that much, but with this technique and within this recipe, I easily devour them all!
Anyway, if you want to learn how to make this healthy Chinese noodle recipe, keep scrolling!
🌱  Rich in protein
🌱  Source of fiber
🌱  Rich in omega-3s and potassium
150g Chinese noodles

100g peeled shrimps

2 carrots

1 broccoli

1 garlic clove 
Step 1 – Vegetables
Start by boiling some water in a large saucepan. Peel the carrots, cut them into fine strips (I use a veggie peeler), and cut the broccoli heads. When the water starts boiling, add a pinch of salt and the cut vegetables.
Cook them for about 3-4 minutes and then remove from water. Dive them immediately into iced water and set aside.
In order to ice your water, fill a large bowl with water and add ice cubes. If you don't have any, simply use fresh water.
Step 2 – Noodles
The boiled water used for cooking the vegetables can now be used to cook the noodles. Look at your package instructions to find the required cooking time.
Step 3 – Shrimps
In the meantime, heat some oil of choice in a pan. Mince the garlic and simmer for 2-3 minutes. Then, add the shrimps and cook for 3-4 additional minutes.
Step 4 – Assembly
Once the noodles cooked, remove them from water and directly add them to the pan containing the shrimps. Also add the vegetables cooked earlier.
Step 5 – Sauce it up!
Finally, the soy sauce, sesame oil, and oyster sauce can be added as well. Stir everything to make sure every ingredient is soaked in the sauce.
Your Chinese noodles are now ready to be eaten!
If the sauce is too salty, feel free to add a teaspoon of sugar or honey to sweeten the meal.

Prefer low-sodium soy sauce to prevent consuming too much sodium

This recipe can easily be made vegan by removing the oyster sauce and replacing the shrimps with tofu.

The noodles can be stored in the fridge for up to 3 days.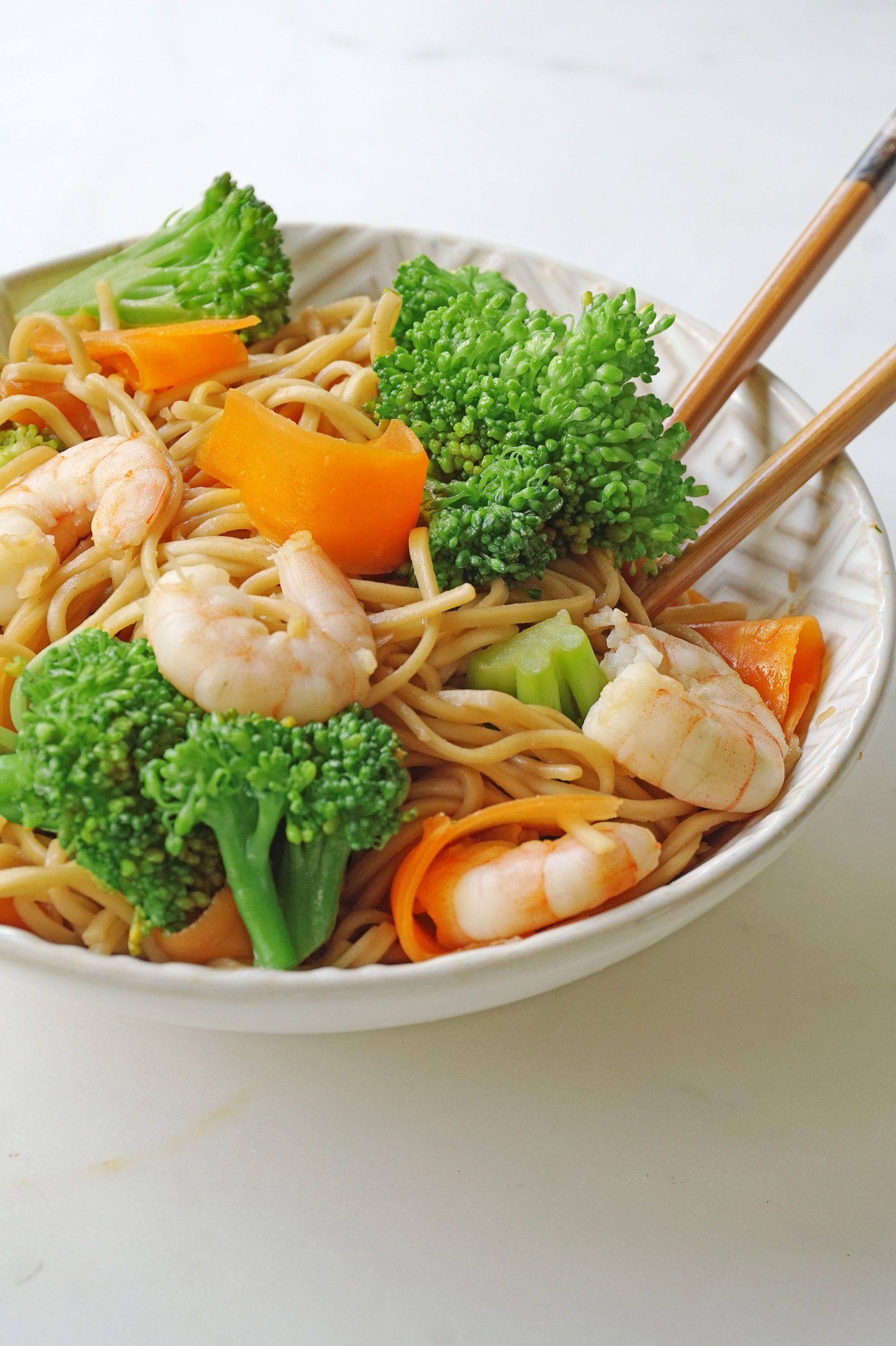 If you make this healthy Chinese noodles recipe, make sure to tag me on Instagram @vlourish so I can see your re-creations!