Want to learn how to make homemade poke bowl?
Say aloha to your new favorite recipe!
Aloha ! Poke Bowls are becoming more and more popular all over the world for the greatest pleasure of fish lovers (but not only!).
The good news is, this Hawaiian specialty is very accessible and easy to make at home.
Learn how to make Homemade Poke Bowl in less than 30 minutes!
🌱  Rich in omega 3-s
🌱  Source of potassium
🌱  Anti-inflammatory properties
Marinade
Poke Bowl
100g rice (sushi rice, jasmine rice, brown rice)
1 handful of greens of your choice
1 avocado
½ mango
50g edamame
1 red onion
This is an exhaustive list, add any other ingredient you fancy!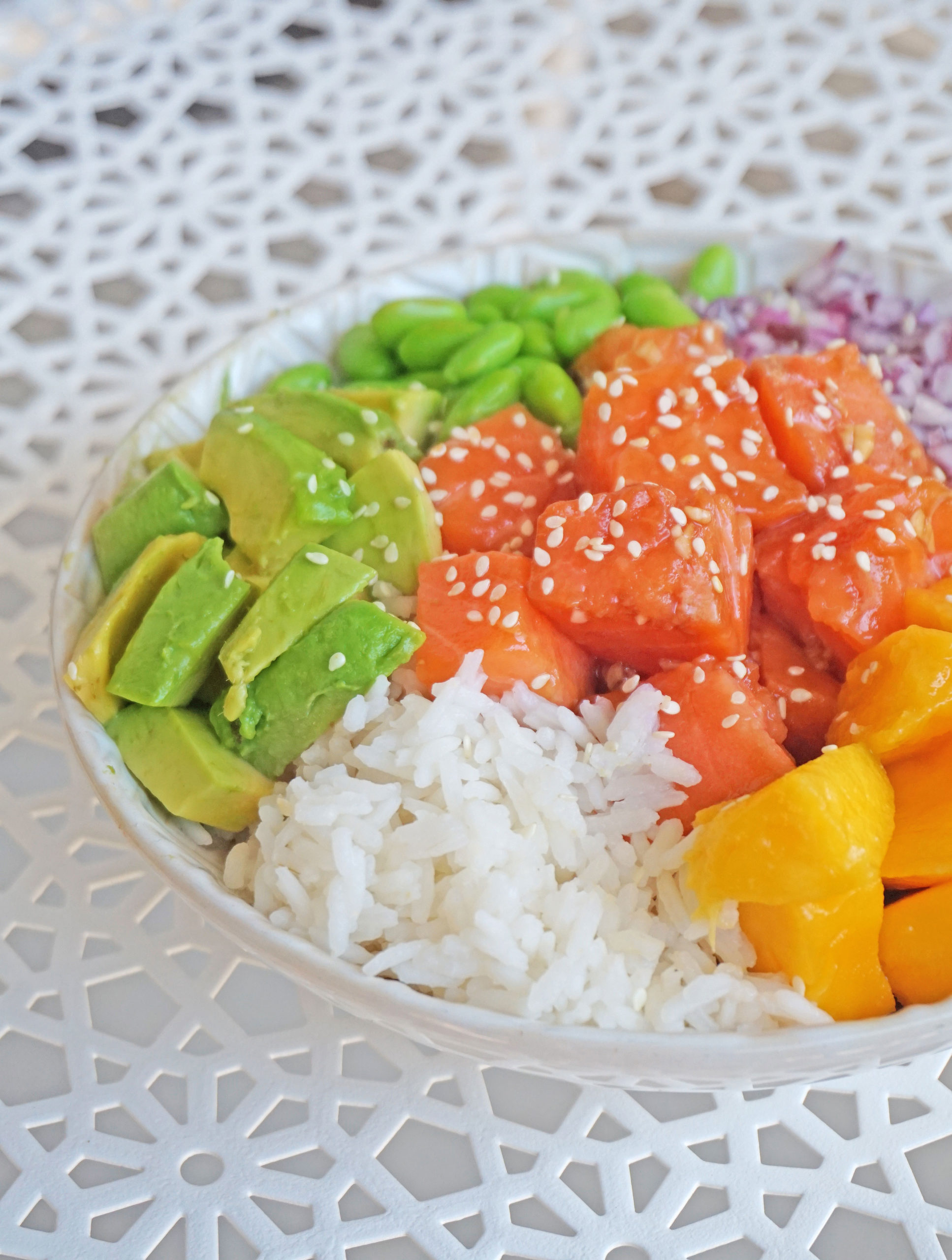 Step 1
Start by preparing the marinade; mix soy sauce, sesame oil, and minced garlic together. Cut the salmon into small cubes and add them to the mixture. Leave for 10-15 minutes.
Step 2
Cook the rice of choice following the package instructions. If you choose sushi rice, don't forget to rinse it with water to remove excess starch.
Step 3
In the meantime, cut all the ingredients you will add to your Poke Bowl (except edamame beans); e.g. mango in cubes, avocado sliced, red onion chopped
Step 4
Once the salmon and rice are ready, you can finally arrange your bowl. Start by placing the rice and greens, then all the other ingredients.
If you buy fresh salmon, I recommend you freeze it before eating it. This process will kill the potential bacteria. However, make sure to check if it hasn't been frozen before!
If you like raw salmon on its own, you can skip the marinade
For a vegan version, replace salmon with tofu