Hey beautiful flowers! Today I am sharing with you my tips for clear skin post hormonal acne!
If you read my acne-related blog posts, you would have known that I suffered from cystic acne after going off the pill.
Even though I've always had pro-acne skin, what I experienced after going off the pill was on another level.
In short, I know what it is like to have acne.
Since then, I managed to balance my hormones, and even though I still have to deal with some pimples from time to time, my acne is officially gone.
Even though my acne was mostly due to hormonal imbalance, I still found that daily skincare was essential to get my clear skin back and keep it.
So there you have my tips for clear skin that you can start applying today!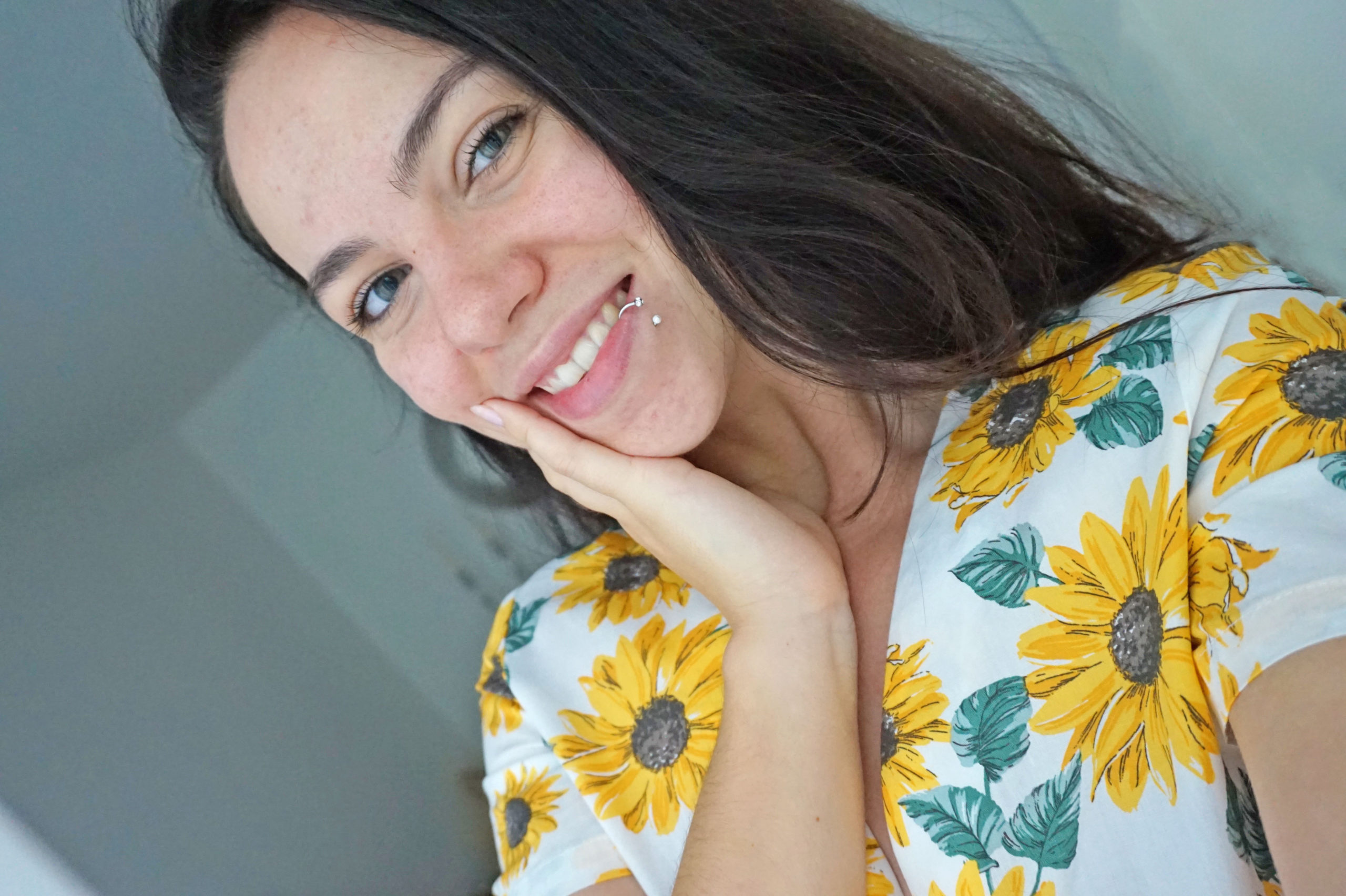 Hydration
The first point and probably the most important one is that having combination and oily skin doesn't mean you don't have to hydrate your skin morning and night.
When I was taking the pill, my skin was very oily. What I thought was: "Why should I put cream on? My face is already so greasy!". Well, I was so wrong.
Because what happens is, if you're skin is not hydrated by creams or serums, it will produce even more sebum to (auto-)hydrate itself.
So the less you hydrate, the more oily your skin will be.
The key here is to choose the right products for your skin type. If you have combination to oily skin, I would recommend you getting a water-based cream/gel.
They are so light on the skin and don't leave any sticky feeling after applying them.
I am a huge fan of the Hydra Vegetal Gel Cream by Yves Rocher.
If you have dry skin, go for a richer, nourishing option.
Makeup
You probably already know that makeup clogs your pores, prevents your skin from breathing, and promotes sebum production.
But did you know that some foundations contain chemical elements that can lead to inflammation?
I know makeup acts as a shield and covers up everything we want to hide from people, but still. Try to avoid wearing foundation as much as you can.
When I started decreasing the layers of makeup I was wearing, I immediately noticed a difference. My skin could breathe again (and me too)!
I get it, it can be difficult to expose your bare face to the daylight when it is covered with acne, but if I could do it, you can too.
I wrote you an article on how to be confident with acne, check it out!
In the meantime, make sure to remove your makeup every night and to clean your brushes frequently to prevent bacteria to spread every time you're applying makeup.
Cleansing
So another unquestionable step is to clean your face daily. Ladies, please stop going to bed without washing your face!!!
Yes, even if you're tired af, even if you're back from a night out.
Your skin needs to breathe and cast off dirt accumulated throughout the day (sebum, pollution, toxins) in order to regenerate itself. And this also applies if you don't wear makeup.
Choose a gentle cleansing gel that smells good and enjoy this moment to wind down after a busy day. Your skin (and soul) will thank you.
Exfoliation
To complete the last point, I have to mention exfoliation. Even though it is part of cleaning your face, it is not quite the same process.
Exfoliation consists of eliminating dead cells. Therefore, it is a little bit harder on the skin and should be done less frequently.
It is recommended to exfoliate your skin once a week with a face scrub – you can do it yourself using oil and sugar or coffee-ground or buy one.
I love the 7-Day Scrub Cream by Clinique.
Even though exfoliating your face is effective to get rid of in-depth dirt, it can harm your skin if done too frequently.
We want to prevent our skin from getting inflamed and produce more sebum than it already does. Let's don't forget that skin is sensitive!
So if you feel your skin getting tight every time you exfoliate, the scrub you are using might be too harsh/inadequate for your skin type.
In any case, don't forget to hydrate your skin after each cleansing and exfoliation.
Product composition
When doing my numerous researches on how to get rid of acne, one thing that kept coming back and that I ignored for a long time was product composition.
Indeed, a lot of makeup and care products contain chemical elements that can damage the skin and disrupt hormonal balance.
Among others, parabens, BHA, salicylic acid, and phenoxyethanol are toxic molecules for the body and skin but are still present in many cosmetics.
I know it can be difficult and binding do check every product composition to know whether it is harmful or not.
But today, we have access to many tools that help us in this process such as skincarisma or Inci beauty.
Fortunately, more brands are now focusing on developing natural products or at least reducing their chemical components.
However, remember to always check ingredients to prevent falling into the trap of greenwashing.
I've fallen for the organic line from Garnier, which I talked about in this article.
Lifestyle
Last but not least, your lifestyle also has an impact on your skin health and quality. And by lifestyle, I primarily mean diet and hydration.
Some foods such as dairy products, fatty meats, fried foods, or alcohol can cause inflammation in the body, which is directly correlated to acne.
It is therefore important to include fresh and non-processed food in your diet and drink at least 2 liters of water a day.
Being hydrated enough and consuming rich in fiber foods will enable your digestive system to eliminate toxins and excess hormones that lead to acne if they're kept in your organism.
There you have my tips for clear skin! I'm convinced that you don't need outrageous skincare routines to have beautiful skin. Simple daily steps will suffice.
If you are implementing these tips on your routine, please let me know in the comments if they helped!