A really simple yet tasteful cauliflower curry recipe made with coconut milk, tofu, and chickpeas.
This vegan creamy dish can be served with rice, greens or enjoyed on its own and will comfort your soul on a cold day. With this recipe, dinner will be ready in less than 30 minutes.
🌱  Rich in plant-based protein
🌱  Source of antioxidants
🌱  Rich in fiber
1 small cauliflower
100g tofu (chopped)
100g chickpeas
350-500 ml of coconut milk
2 tbsp curry powder
1 clove of garlic (or 1 tsp garlic powder)
Salt and pepper
Step 1
If you like your cauliflower to be tender, start by cutting and steaming it until you can easily insert the point of a knife. You can skip this step if you prefer it firm.
Step 2
Heat a pan with oil. Stirfry the chopped tofu and garlic for 6-7 minutes.
Step 3
Add cauliflower, salt, and pepper.
 It is important to add your seasoning at this point for your ingredients not to taste bland.
Step 4
Then, add coconut milk, chickpeas, curry powder, salt and pepper to taste. Let everything cook for 6-7 more minutes or until everything is cooked.
If you find your preparation too thick after adding coconut milk, ypi can add a dash of boiling water to the pan. 
Your cauliflower curry is now ready to be eaten! It tastes good enough on its own but goes also very well with some jasmin rice, greens, chopped cilantro or topped with cashews.
If you struggle digesting chickpeas, consider removing the skin when rinsing them
Any vegetable tastes good with curry, try this recipe with bell peppers, tomatoes, zucchini or eggplant!
Refrigerated, your cauliflower curry will last you up to 3 day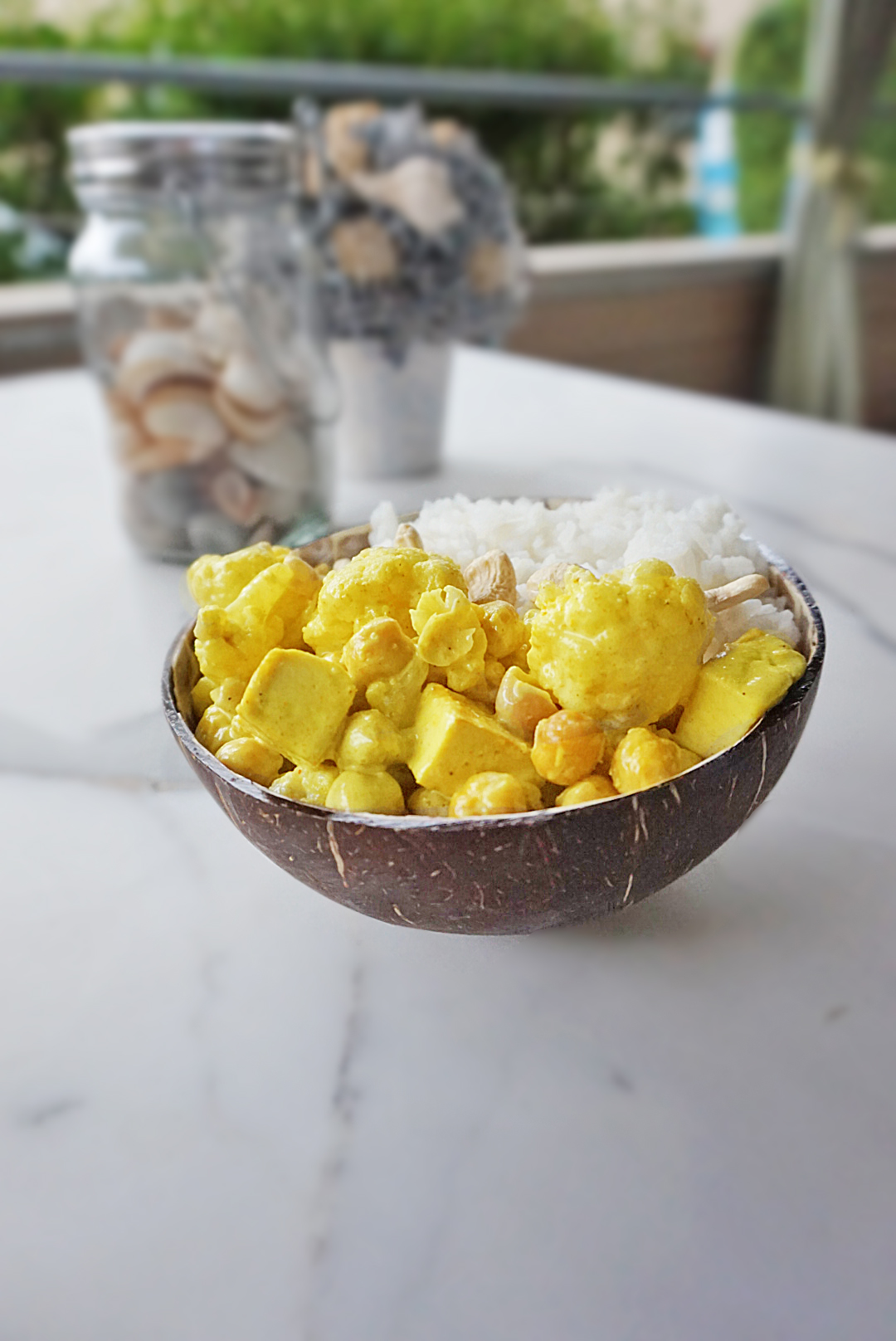 If you make this cauliflower curry recipe, make sure tag me on Instagram @vlourish so I can see your recreations!