Tomato soup with coconut milk can sound weird, but believe me, it's delicious. Learn how to make creamy vegan tomato soup that is healthy for the body, comfy for the soul, and ready in 20 minutes only.
It is officially the fall, and to me, the fall season means soup season! Soups are the easiest way to get your veggies and vitamins in. Plus, they basically always taste good.
Today, I am sharing with you my creamy vegan tomato soup, made with coconut milk. I know, we are not really used to associate tomato and coconut, but I'm wondering why.
Being a huge coconut milk fan, I tried, one day, to add some to my basic tomato soup. I can tell you that I've never made tomato soup without coconut milk again!
When including the right amount of it, you can reach the perfect balance between the bitterness from the tomatoes and the sweetness from the coconut milk.
I hope you will love this creamy vegan tomato soup as much as I love it. Let me know in the comments below if you try it!
🌱  Good source of fiber
🌱  Rich in vitamin C, B9, K
🌱  Source of potassium
For 1-2 servings
5 tomatoes
1 onion
50ml (1/4 cup) coconut milk
1 tbsp sugar
A few basil leaves (optional)
Salt and pepper
Step 1
Start by heating a pan with some olive oil (or any other oil).
Step 2
Chop the onion and add it to the pan once the oil is warm. Leave for 5 minutes while stirring it from time to time.
Step 3
In the meantime, peel and chop the tomatoes. Add them to the pan and add some water so that the tomatoes are immersed. Also add the sugar, salt, and pepper, as well as the basil leaves. Cover the pan and let simmer for 10-12 minutes.
Step 4
When the time is up, add the coconut milk, remove the pan from the heat, and blend the mixture. You can either blend it directly in the pan with a hand blender or transfer it to a food processor. In both cases, be careful, it is pretty hot!
Step 5
Try the soup and adjust water, coconut milk, sugar (if it's too bitter), salt, and pepper according to your personal taste. Your creamy vegan tomato soup is now ready to eat!
Refrigerated, the soup will last you up to 3 days. You can also freeze it and warmed up in a pan or microwave.

If you don't like coconut milk, you can obviously exclude it from the recipe or replace it with any other milk. The consistency might not be as creamier though.

If you don't have fresh tomatoes (or if you're lazy), you can also use canned tomatoes.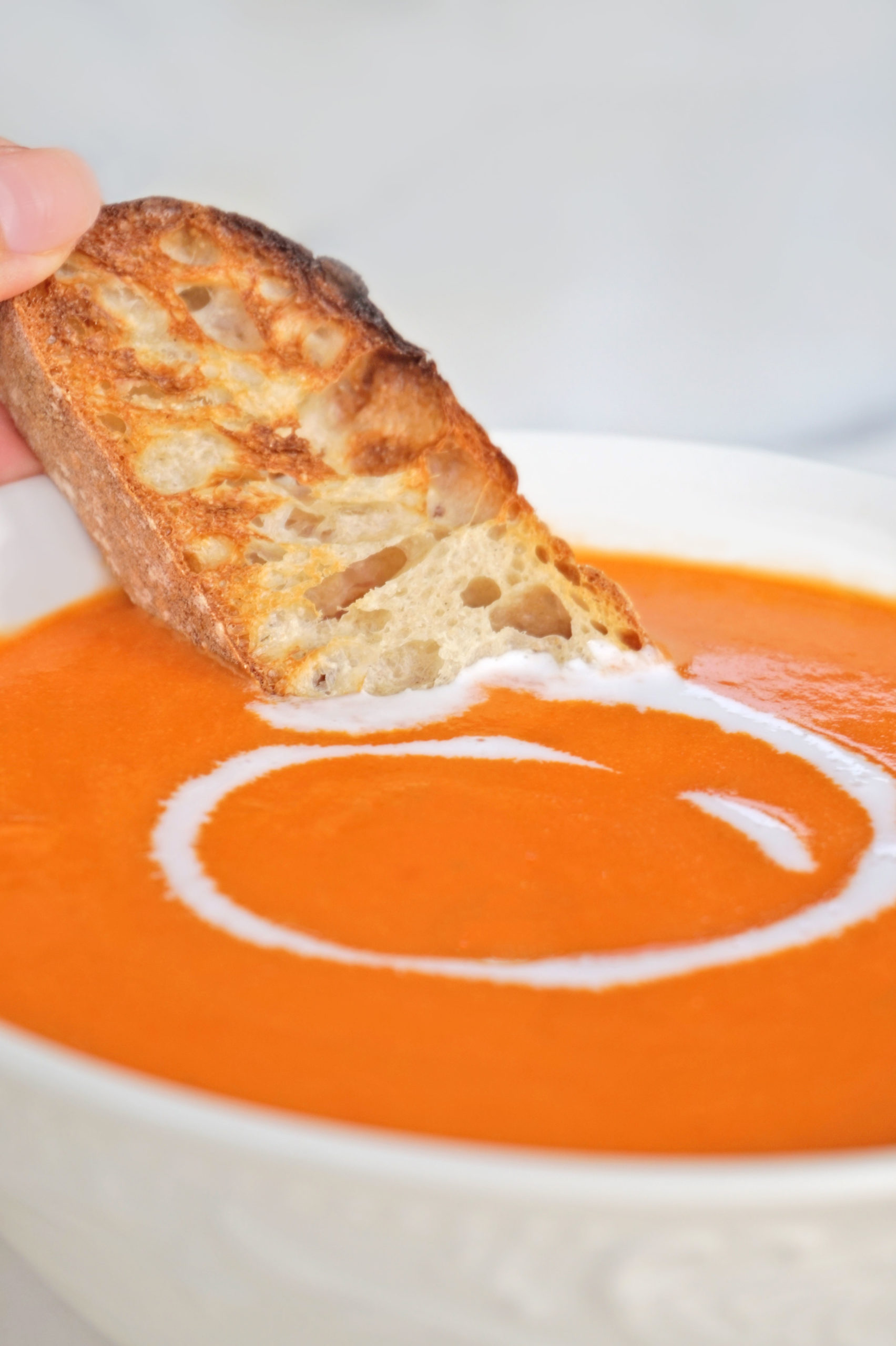 If you make this creamy vegan tomato soup, make sure to tag me on Instagram @vlourish so I can see your recreations!