So easy. So delicious. So healthy.
You don't want to miss on this Sweet Potato Lentil Salad!
I like to call this sweet potato lentil salad a spring salad since you can eat it warm (for cooler days) or cold (for warmer days). It is also a good recipe to meal prep if you don't have access to a microwave at school or work!
All the ingredients of this preparation are nutritious and make, put together, a healthy balanced meal.
Lentils are known to be one of the most recommended legumes for vegan and vegetarians since they are very rich in proteins and iron. Lentils are also a great source of fiber and antioxidants, just like the sweet potatoes and avocado.
For this recipe, I like to bake my sweet potatoes because of the caramelized taste they get. But if you are in a rush, feel free to steam them or cook them in your microwave (learn the trick here).
Ok so now, let's make this easy and healthy sweet potato lentil salad!
🌱  Source of fiber
🌱  Rich in iron
🌱  Antioxidant properties
250g green or brown lentils
3 medium size sweet potatoes
80g radish
100g pomegranate seeds
1 avocado
1 onion
2 tbsp olive oil
1 tbsp balsamic vinegar
Salt
Step 1
Preheat the oven at 180° and line a baking tray with parchment paper.
Step 2
Rinse, peel, and cut the sweet potatoes in cubes. Place them in the baking tray and bake for 30 minutes.
Step 3
Boil the lentils following package instructions. 
Step 4
In the meantime, cut the avocado in cubes, the radishes in slices and mince the onion.
Step 5
Once cooked, drain lentils and remove sweet potatoes from the oven. Add them to a large bowl along with the avocado, radishes, onion and pomegranate seeds. Add olive oil and vinegar and season with salt.
If you meal prep this, I would recommend adding the avocado just before eating the salad
Refrigerated, the sweet potato lentil salad will last up to 4 days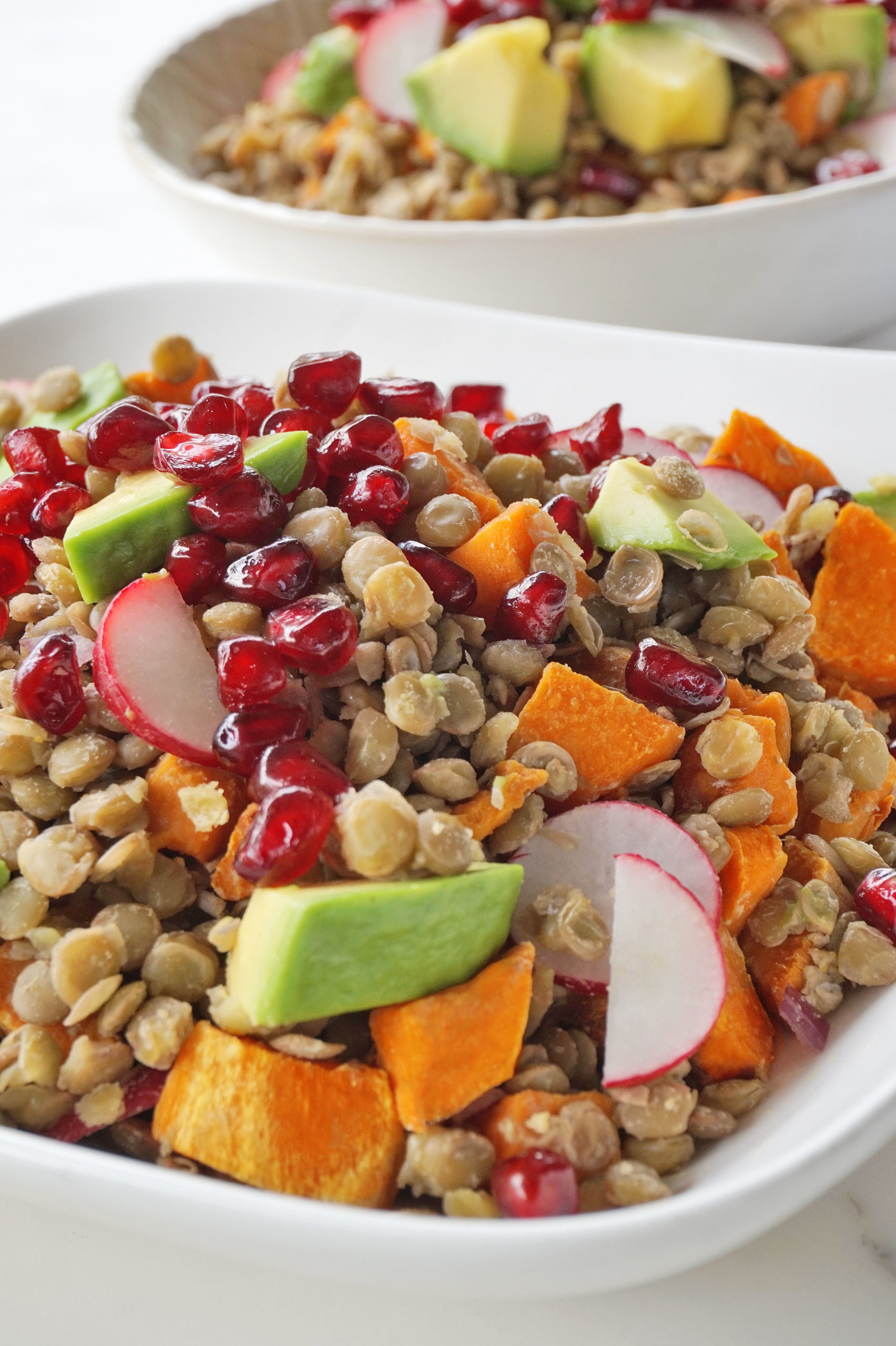 If you make this sweet potato lentil salad, make sure to tag me on Instagram @vlourish so I can see your re-creations!