Pasta is often seen as an "unhealthy" food that "makes you fat". In this veggie pasta recipe, I'm showing that this is untrue.
I always saw veggie pasta as the meal that no one takes on a restaurant menu. Well, except for vegetarians. I was so wrong to think that.
Let me tell you one thing; veggie pasta is so underrated. Also, a meal that includes vegetables doesn't have to taste bland!
Not only this veggie pasta recipe is delicious, but it's also so fast and easy to make.
You don't need much; any vegetables you have in your fridge, some type of pasta, and 30 minutes of your time. That's it!
For me, it has become the go-to meal when my veggies are about to go bad.
Most of the time, I go for eggplant and zucchini. But this recipe would taste amazing with any other vegetables; spinach, bell peppers, asparagus.
The only one that I would always include is tomatoes since it helps to create a sauce.
You name it, that veggie pasta recipe is super versatile and – I'm sure – will easily make you eat your veggies.
Let's go to the recipe!
🌱  Rich in fibers
🌱  Source of antioxydants
🌱  Rich in vitamins (A, B6, C) and minerals (magnese, potassium)
For 2 servings
200g (2 cups) pasta of choice

1 onion, minced

1 zucchini, diced

1 eggplant, peeled and diced

1 big tomato, peeled and diced

A few basil leaves

1 tbsp nutritional yeast

2 tbsp olive oil, for cooking

Salt and pepper
Step 1
Heat a pan with olive oil and sauté the onion for 2-3 minutes. In the meantime, cook your pasta according to the package instructions. When cooked, don't drain it.
Step 2
Add the chopped zucchini, eggplant, tomato, and basilic leaves to the pan. Stir over medium heat for 10 minutes.
Step 3
Then, add a few tbsp of the water the pasta cooked in. Add salt, pepper and cook for another 5-10 minutes or until veggies are tender.
Tip: if you're in a rush, make sure you chop your veggies finely, it will cook faster!

It doesn't seem like that but adding the water you cooked your pasta in makes the difference! Not only it adds flavor and but it also helps the sauce thicken.

Feel free to add your favorite herbs and spices to mix things up; oregano, cumin, rosemary.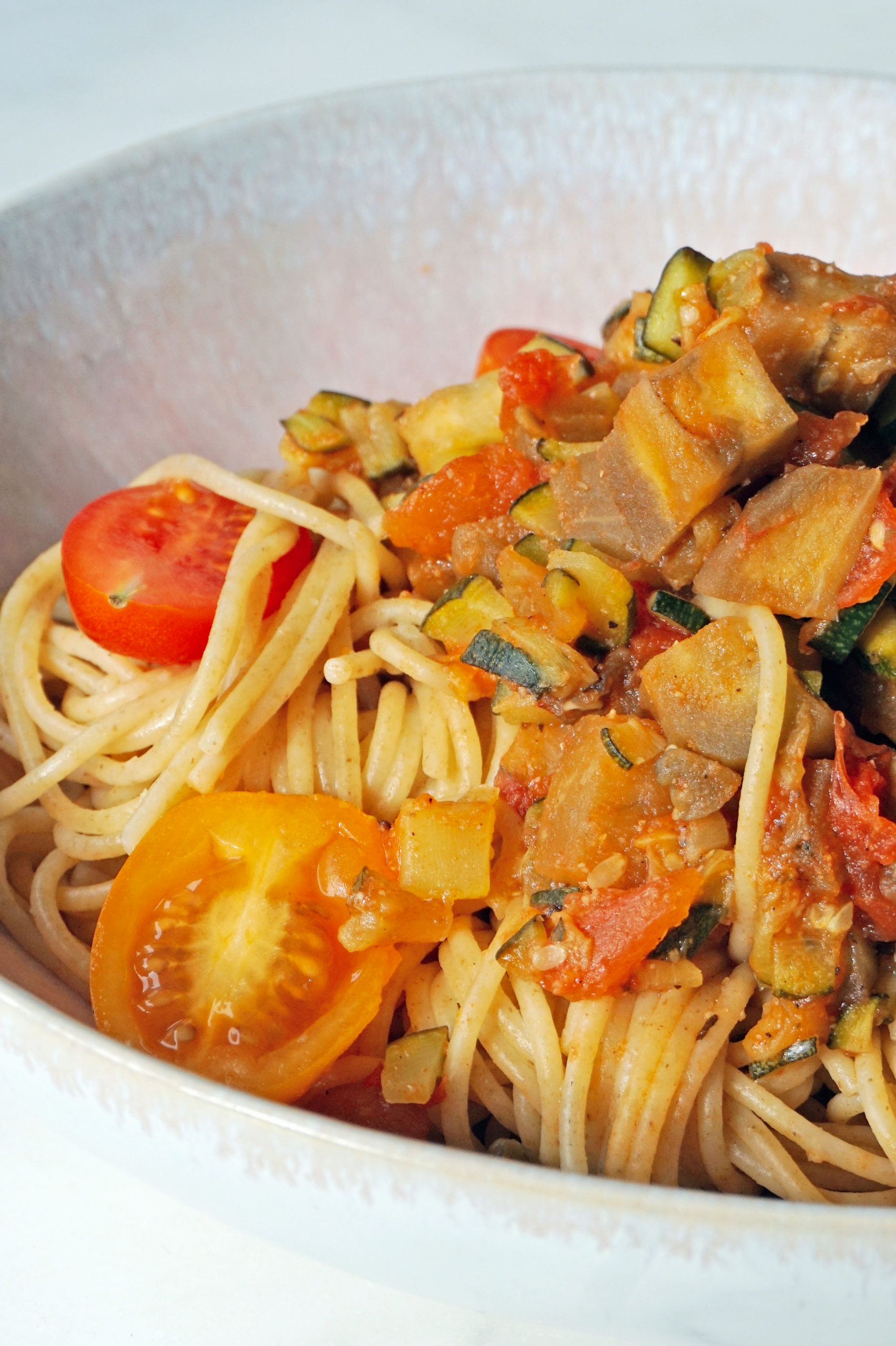 If you make this veggie pasta recipe, make sure to tag me on Instagram @vlourish so I can see your recreations!