This cake with butternut squash and almonds is THE perfect cake for the fall/winter season – especially if you're like me and crave sugar all the time during this time of year.
It's quick and easy to make, healthy since it doesn't contain any refined foods and suits perfectly a vegan diet.
What makes this butternut cake healthy?
If you've ever visited my blog, you know that my goal is to create recipes that are as healthy as possible.
In this cake with butternut squash, sugar is replaced by maple syrup, butter by coconut oil, and the flour by almond flour.
If you don't have almond flour, you can use any other type of flour – oat flour, wholemeal flour, or white flour if you don't have a problem with gluten.
Can I use other varieties of squash?
Absolutely! You can use any type of squash in a puree. You can buy it pre-made, which *i know* is not always easy to find – or make it yourself. I'll tell you how in the recipe!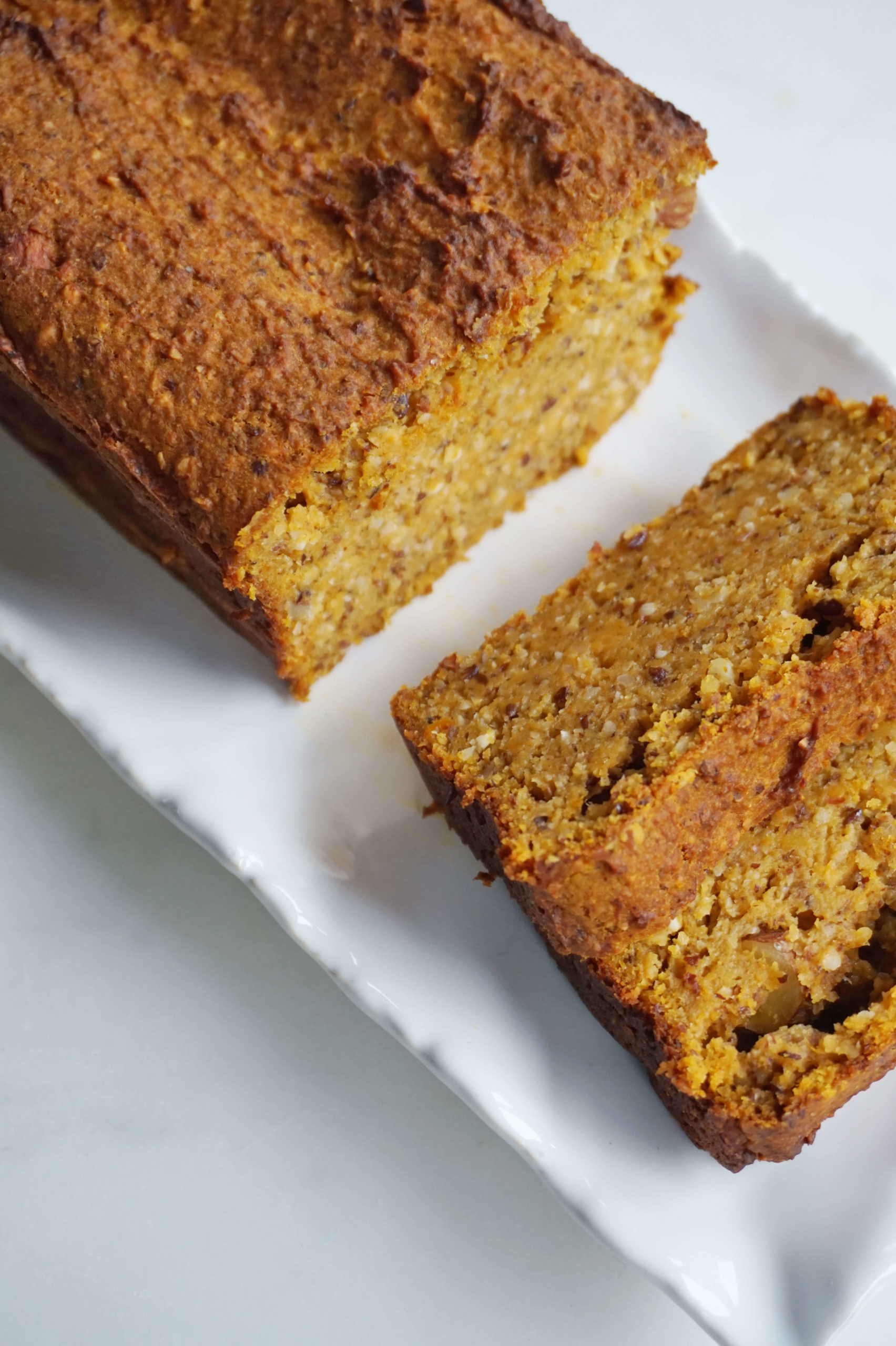 Ingredients
400g butternut/ (about 1/2 squash)
5 tbsp maple syrup
60 g (1/4 cup) coconut oil, liquid
100 g (1/2 cup) ground almonds
100 g (1/2 cup) almond flour, wholemeal or white
50 g (1/2 cup) chopped pecans
2 flax eggs*
1 tsp baking powder
1 tbsp orange juice
1 pinch of salt
*Let 2 tablespoons of ground flaxseed sit in 4 tablespoons of cold water for 5 minutes
Instructions
Step 1
You can make this step 1-2 days prior to making the cake.
The first step is to cook your squash. You have two options: baked or boiled (in a pan or pressure cooker).
I personally prefer to bake it (30 to 45 minutes) for its caramelized taste and also because it is way easier to peel. But if you're in a rush, boiling it is your way to go!
All you have to do is to cut the squash into 4 big pieces and put it as is, in the oven, at 200°C (400°F). Leave it for 30 to 45 minutes. It is ready when you can easily insert a knife or a fork in it.
Let it cool and remove the flesh from the skin with a spoon. Mash the almost-puree with a fork or blend it with a blender.
For this option, bring a pot of water to a boil. Peel and cut the squash into small cubes. Add them to the pot and boil for 5 to 10 minutes, until fork-tender. Mash it with a fork or blend it with a blender.
Step 2
Preheat the oven to180°C (350°F) if it's not already hot. In a large bowl, add all the dry ingredients: the ground almonds, flour of your choice, salt, and the baking powder. Mix everything together.
Step 3
Add the remaining ingredients: squash, liquid coconut oil, maple syrup, flax eggs, and orange juice. Mix it all together. If the mixture is too dry, feel free to add a dash of water or vegetable milk.
Step 4
Grease your pan with coconut oil or margarine and add the mixture. Bake for 40-45 minutes or until you can stick a knife in and pull it out clean.
Step 5
Let cool for 10 minutes. Serve with crushed almonds, shredded coconut and/or a drizzle of maple syrup.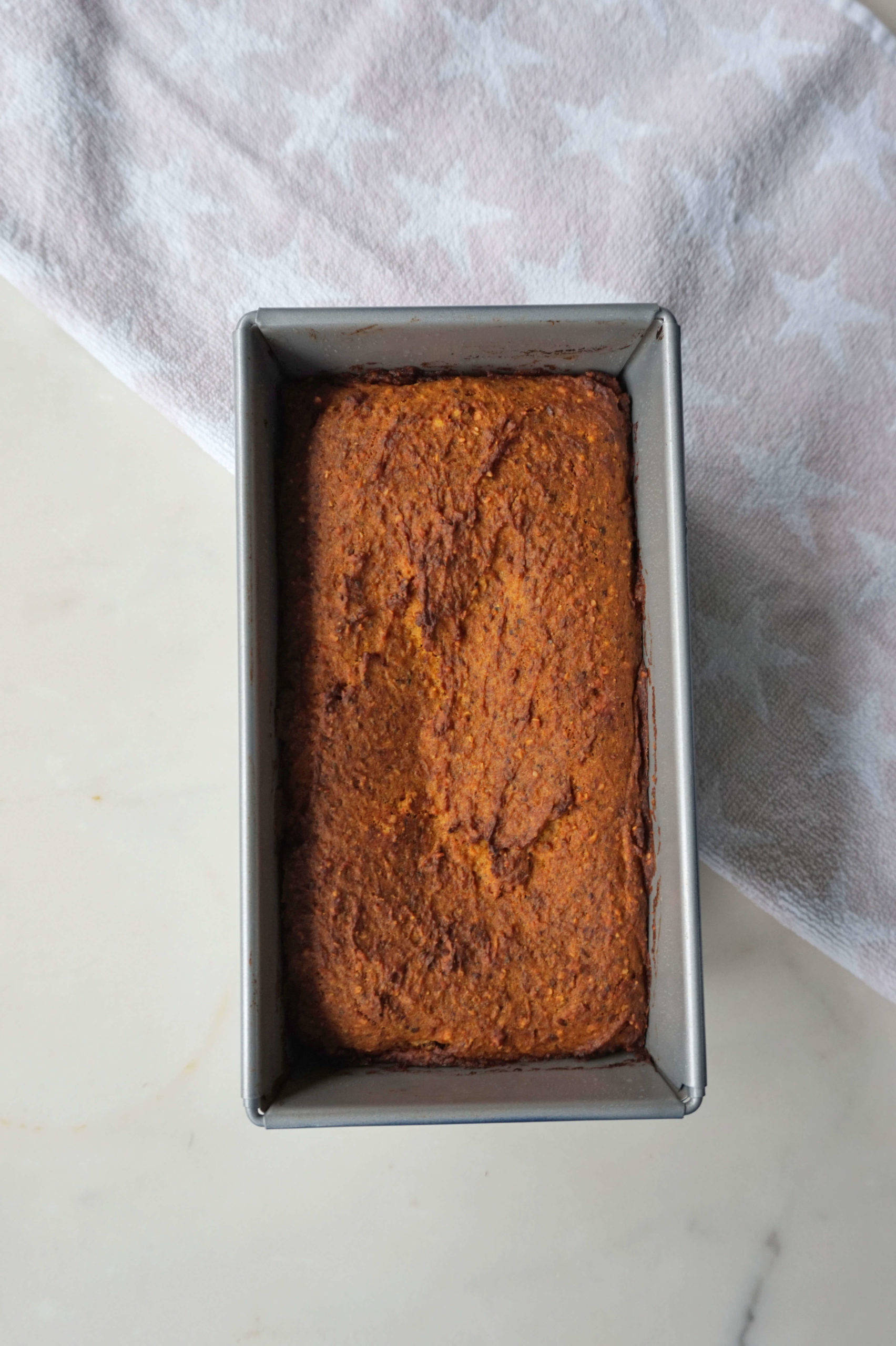 I hope you like this cake with butternut squash and almonds! If you make it, send me a picture and tag me on Insta
@vlourish
.