Probably the best avocado recipe : homemade guacamole. Can we agree on this?
This easy homemade guacamole is prepared with fresh ingredients and makes the perfect healthy appetizer. Making it yourself only takes a few minutes and is way better for you than the ready-to-buy ones! 
Avocados are one of my favorite foods, so believe me when I say I go crazy about guacamole. Not only is it delicious on toasts, tacos, or as a homemade burger sauce, but it is also so easy to make.
However, it  makes me kind of anxious to see people buying it pre-made… why are you doing dis?
Every ready-to-buy preparation you'll find at your grocery store won't be as fresh, tasty, and healthy as if you'd make it yourself (and this also includes mixed spices!). And since guacamole is made in 5 minutes only, I can't take "it's faster" as an excuse.
Time to learn how to make this recipe of homemade guacamole!
🌱  Source of monounsaturated fats
🌱  Rich in vitamin B9, C, K
🌱  Packed with antioxidants
2 ripe avocados
½ lime
1 onion
1 tomato
2 fresh coriander stems
1 tsp chili powder (fresh is better if you have access to it!)
1 tsp ground cumin
1/2 tsp garlic powder (optional)
Salt
How to make the recipe : Homemade Guacamole
Step 1
Cut the avocados, remove the pit and skin. Add to a mixing bowl and mash with a fork until reaching the desired consistency.
Step 2
Chop the tomato in small cubes and dice finely the onion and cilantro leaves. Add to the mixture.
Step 3
Squeeze the lime and add spices. Adjust seasoning with salt (or additional lime juice/spices/coriander) if needed.
Step 4
Stir everything and serve immediately.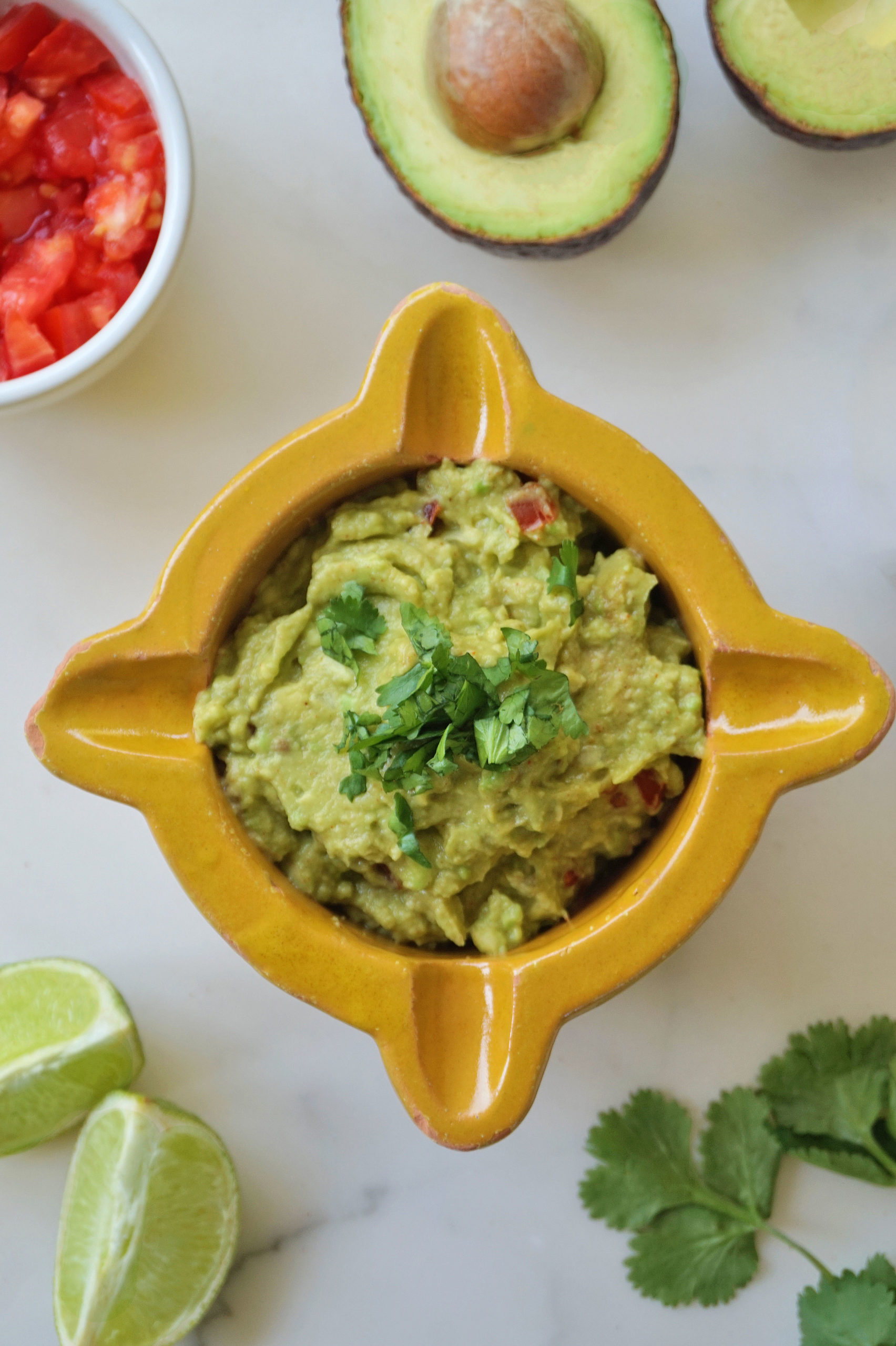 If you make this recipe for homemade guacamole, make sure to tag me on Instagram @vlourish so I can see your re-creations!