Looking for a fresh summery meal? Give this quinoa black beans corn salad a try!
Quinoa and beans are part of the foods that I only got interested in once I stopped eating meat. That was a mistake since they have so many benefits for our health.
Quinoa is one of the rare plants that possess all nine essentials amino acids that our bodies need and can't produce on their own. Moreover, quinoa is a rich source of iron (essential for us women), of fiber (helps with digestion) and manganese (plays a role in bone and joint formation).
Black beans are also a good source of protein and fiber but that's not all. They're also high in magnesium, potassium, and zinc. Sounds way better than taking supplements right?
Learn how to make this quinoa black beans corn salad in less than 30 minutes!
🌱  Rich in plant-based protein
🌱  Source of iron
🌱  Rich in fiber
200g quinoa
150g black beans
100g corn
50g pickles
2 tomatoes
1 lemon
1 onion
2 tsp olive oil
Salt
Step 1
Bring 400ml water to a boil. Rinse the quinoa and add it to the pan with a pinch of salt. Reduce heat to medium-low and cook for 15 minutes. Passed this time, remove from heat, cover, and let the quinoa rest for 5 minutes.
Step 2
Rinse the beans, chop the tomatoes, pickles, and dice the onion. Add everything in a mixing bowl along with the cooked and cooled quinoa.
Step 3
Mix everything and add olive oil, lemon juice, and salt.
Refrigerated, the salad will last up to 4 days 

Try this recipe with red quinoa, kidney, or pinto beans!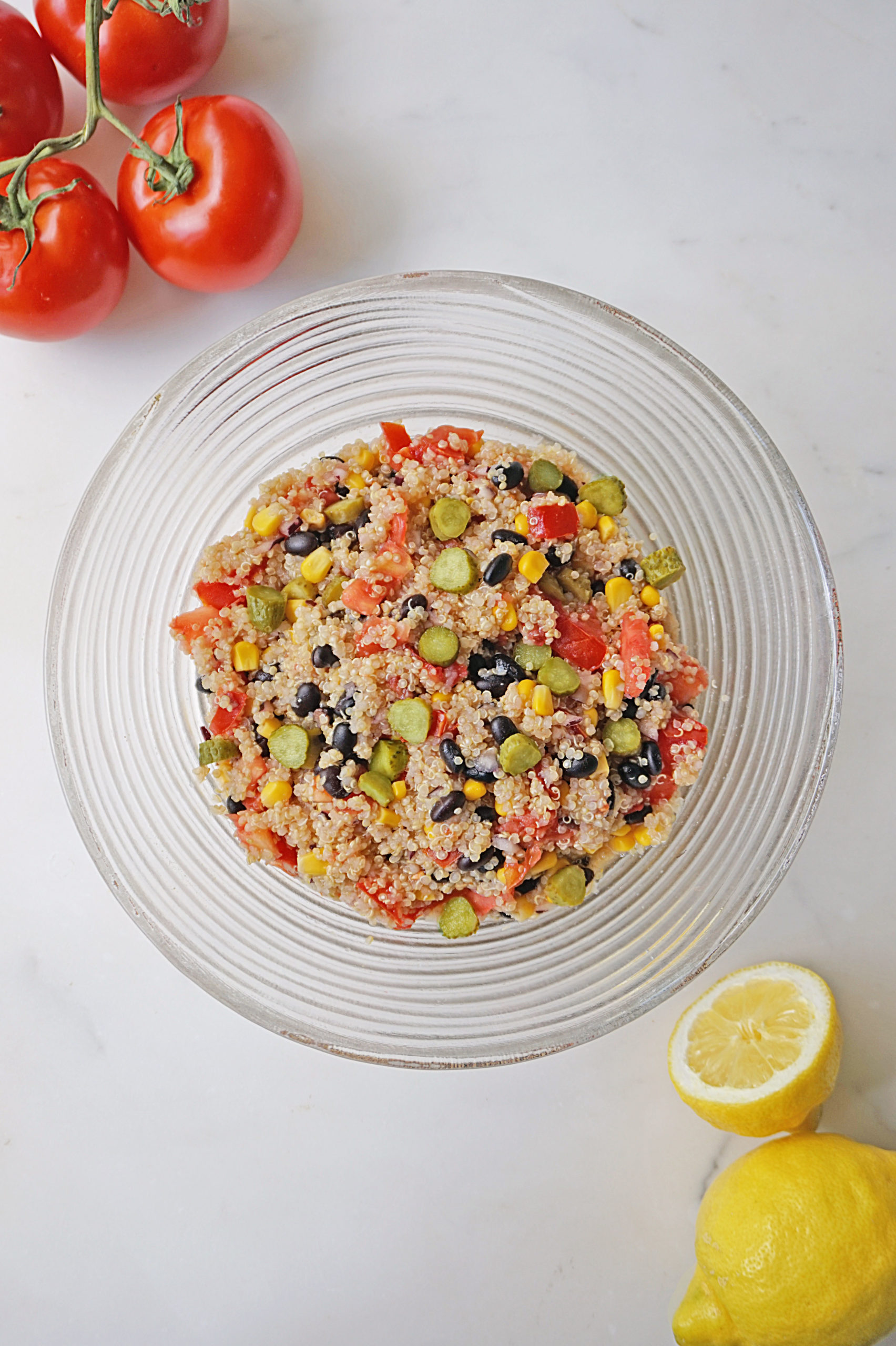 If you make this quinoa black beans corn salad, make sure to tag me on Instagram @vlourish so I can see your re-creations!