Need a comforting yet healthy meal for winter days? Try this red lentil dah recipe.
This red lentil dahl is the perfect plant-based meal for the winter season.
When the coconut milk makes the entire dish creamy and comforting, the cumin and curry will spice a gloomy day up!
Find out how to recreate this red lentil dahl in less than 30 minutes! 
I have never been a big lentil eater, and to be honest, I didn't even know that they were different varieties until a few years ago.
It is when I stopped eating meat that I began to do some research on how to get my protein from plants that I discovered all the amazing benefits of this legume. 
Lentils are high in fiber, protein and are known to have strong antioxidant and anti-inflammatory effects.
Plus, some studies found out that some of the chemicals present in the legume (called polyphenols) were able to stop cancer cell growth!
So not only lentils are amazing for your health, they can also be great for your soul. You just have to follow the red lentil dahl recipe below!
🌱  Rich in plant-based protein
🌱  Rich in fiber
🌱  Anti-inflammatory properties
250g red lentils
1 red bell pepper
1 tomato
1 onion
1 garlic clove
200 ml coconut milk
1 tsp cumin
1 tsp curry powder
Salt and pepper
Step 1
Cut the bell pepper and tomato in squares. Finely chop the onion and garlic.
Step 2
Heat a little bit of oil in a large pan in a medium heat. Then, add your chopped veggies along with the cumin and curry powder. Cook for 5-7 minutes.
Step 3
Add the lentils and coconut milk to the pan, then stir to combine. Season with salt and pepper and cook for 10-15 minutes. At this point, all ingredients should be cooked. 
If the consistency is too thick, feel free to add some water.
Step 4
Serve the preparation on its own or with cooked jasmine/basmati rice. Top with some lime slices, cilantro leaves, and flax- or pumpkin seeds for added omega-3s
This recipe does not require any special seasoning. However, if you have some Indian spices in your possession, feel free to add them to the preparation!
You can add any other vegetables you like to this dish such as zucchini, eggplant or sweet potatoes
Refrigerated, your red lentil dahl will last you up to 3 days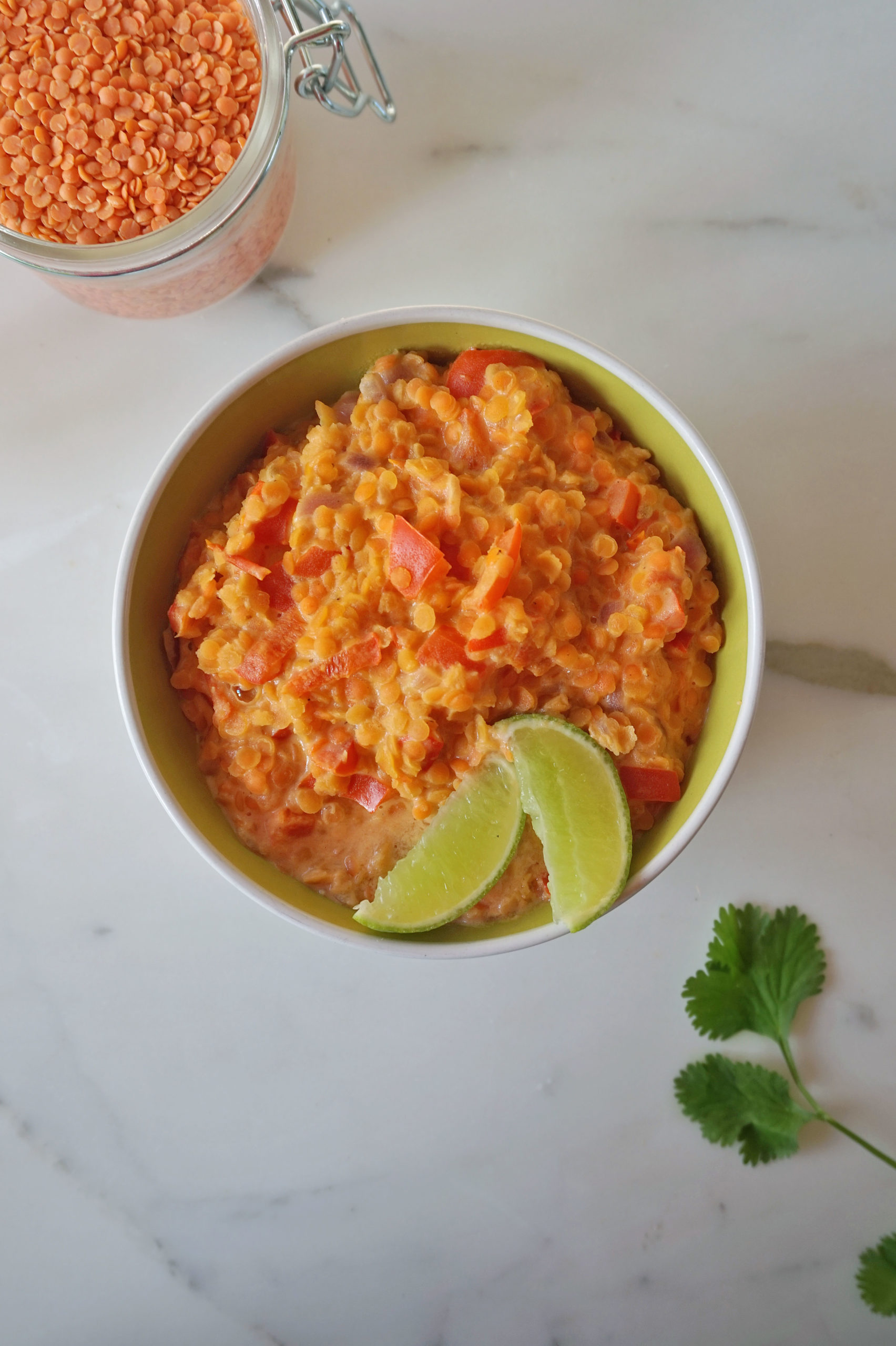 If you make this red lentil dahl recipe, make sure to tag me on Instagram @vlourish so I can see your recreations!