This vegan chili con carne recipe will bring you to the Mexican Caribbean's coast in less than 40 minutes. Listo ?
For some reason, one of my dreams is to go to Mexico.
To me, it really looks like the perfect place to live your best life – the ocean, the sun, the vibe and, of course, the foooood!
So until I finally manage to go there, I'm trying my best to develop recipes that taste like Mexican heaven.
Of course, the ingredients in Europe are definitely not the same, but there are still some things to do with what we have!
For example, this vegan chili con carne recipe is not only super tasty but also very nutrient-dense with all its veggies and beans.
Also, it's very easy to make since all you have to do is put everything in a pot and wait… who doesn't love that ?!
🌱  Rich in fibers
🌱  Packed with plant-based protein
🌱  Source of iron + vitamin C
For 2 servings
*not essential but makes a huge difference
Step 1
Warm the olive oil in a large pot over medium heat. When simmering, add the onion and red pepper. Cook until tender (about 5-7 minutes).
Step 2
Then, add the garlic, chili powder, cumin, smoked paprika, salt, and pepper. Stir for 1 minute.
Step 3
Add the tomatoes, black beans, corn, and water.
Stir to combine and let the mixture cook for 20 minutes over medium to low heat. If the texture is sticky, feel free to add more water.
Step 4
Finally, add salt and pepper to taste. Serve your vegan chili con carne with tortillas, brown rice, and add your favorite toppings – mine are plant-based yogurt, avocado, and cilantro!
Black beans are my favorite, but feel free to add any other beans such as chickpeas, pinto beans, or red beans!
If you struggle to eat your veggies, this recipe is the opportunity to have them without even noticing them! You can pretty much add any veggies in there; carrots, zucchini, celery, spinach.
Refrigerated, your vegan chili sin carne will last you up to 3 days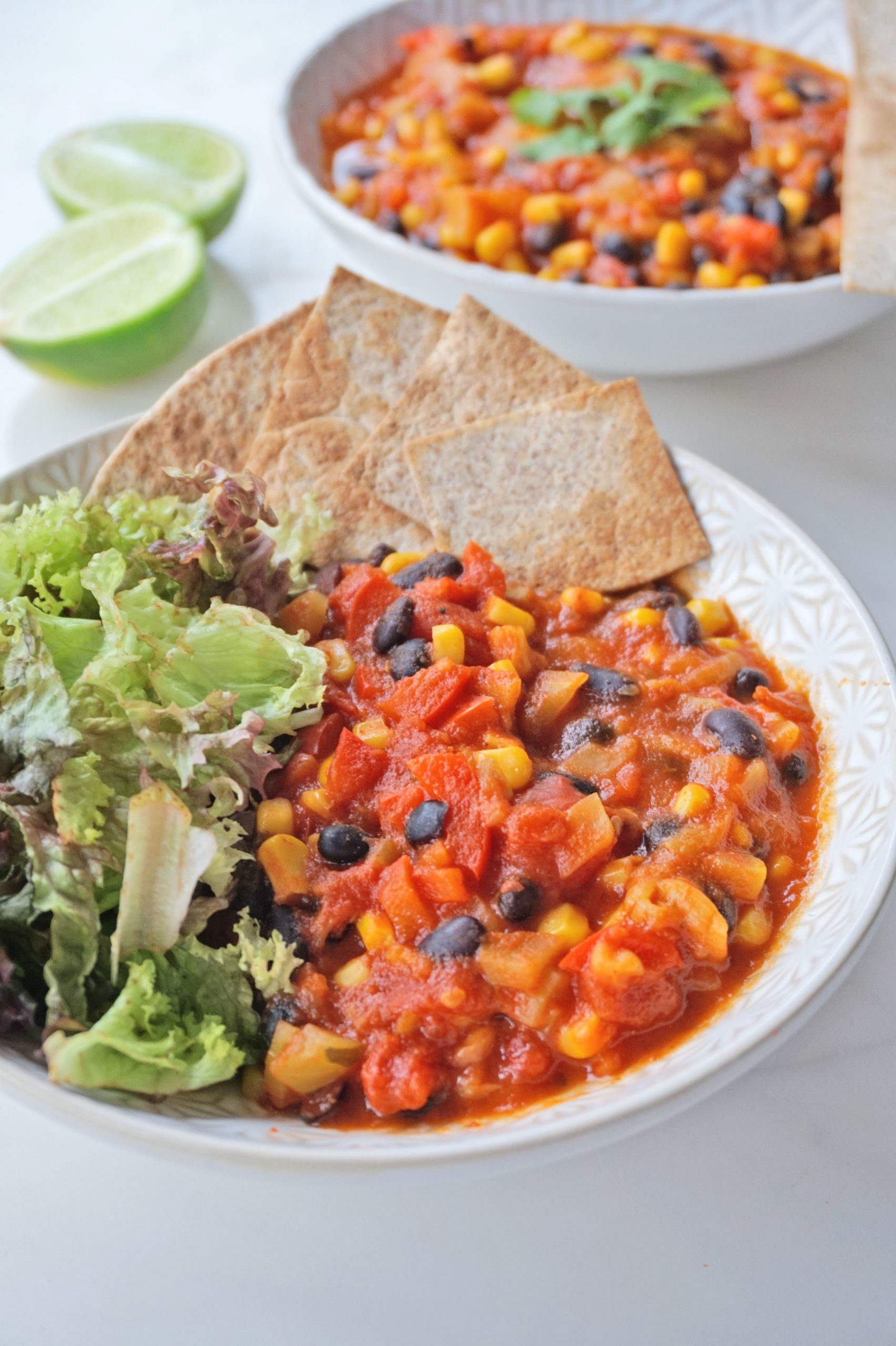 If you make this vegan chili con carne recipe, make sure to tag me on Instagram @vlourish so I can see your recreations!