A creamy yet healthy vegan pasta dish? What else could we ask for? Everyone should have this vegan roasted red pepper pasta recipe in their lives.
I revealed several times the secret to a creamy plant-based sauce. If you saw my creamy vegan sauce or my mushroom pasta recipe, you would know that cashews are the stars of the show.
Yeah, we can pretty much consider them as the magic ingredient for a dense dairy-free sauce.
So, I know. Making a roasted red pepper sauce to go with your pasta isn't the most common.
But believe me, it's sooo worth it. And aren't you bored of your traditional tomato pasta anyway?
Oh! and did mention it's healthy for you?
Did you know that peppers contain more vitamin C than citrus?
By the way, eating one serving of this pasta recipe = twice the required amount of vitamin C a day. Crazy, I know.
Vitamin C (along with all the antioxidants present in peppers) is essentials to fight against viruses that want to attack your organism.
You got it, to vegan roasted red pepper pasta, YES WE SAY! Especially during winter to strengthen your immune system – and falls perfectly with your carb cravings.
Don't dare to say pasta is bad for you anymore, ok? (-;
🌱  Rich in fibers
🌱  Source of vitamin C and K
🌱  High in antioxydants
For 2 servings
150g pasta of choice
50g soaked cashew nuts (at least for 3 hours)*
2 red bell pepper
1 garlic clove
1/2 tsp de pimentón (optional but v recommended if you want to take this recipe to the next level)
Salt and pepper
*If you can't help but make this recipe right now, you can boil them in water for 15 minutes
Step 1
Start by cutting the bell peppers in four. Place them on a lined baking sheet and in the oven at 200°C (390°F) for 30 minutes. You can add the garlic clove too.
Step 2
In the meantime, cook your pasta according to the package instructions. I recommend you use whole grain pasta for a healthier version.
Step 3
Once the bell peppers tender, place them in a food processor along with the garlic, the cashews, and 10 ounces water. Mix and adjust quantities of water according to the consistency you'd like.
Step 4
Season with salt, pepper, and pimentón. Mix one more time.
Step 5
Mix the sauce with the sauce and serve with a few basil leaves or lime zest.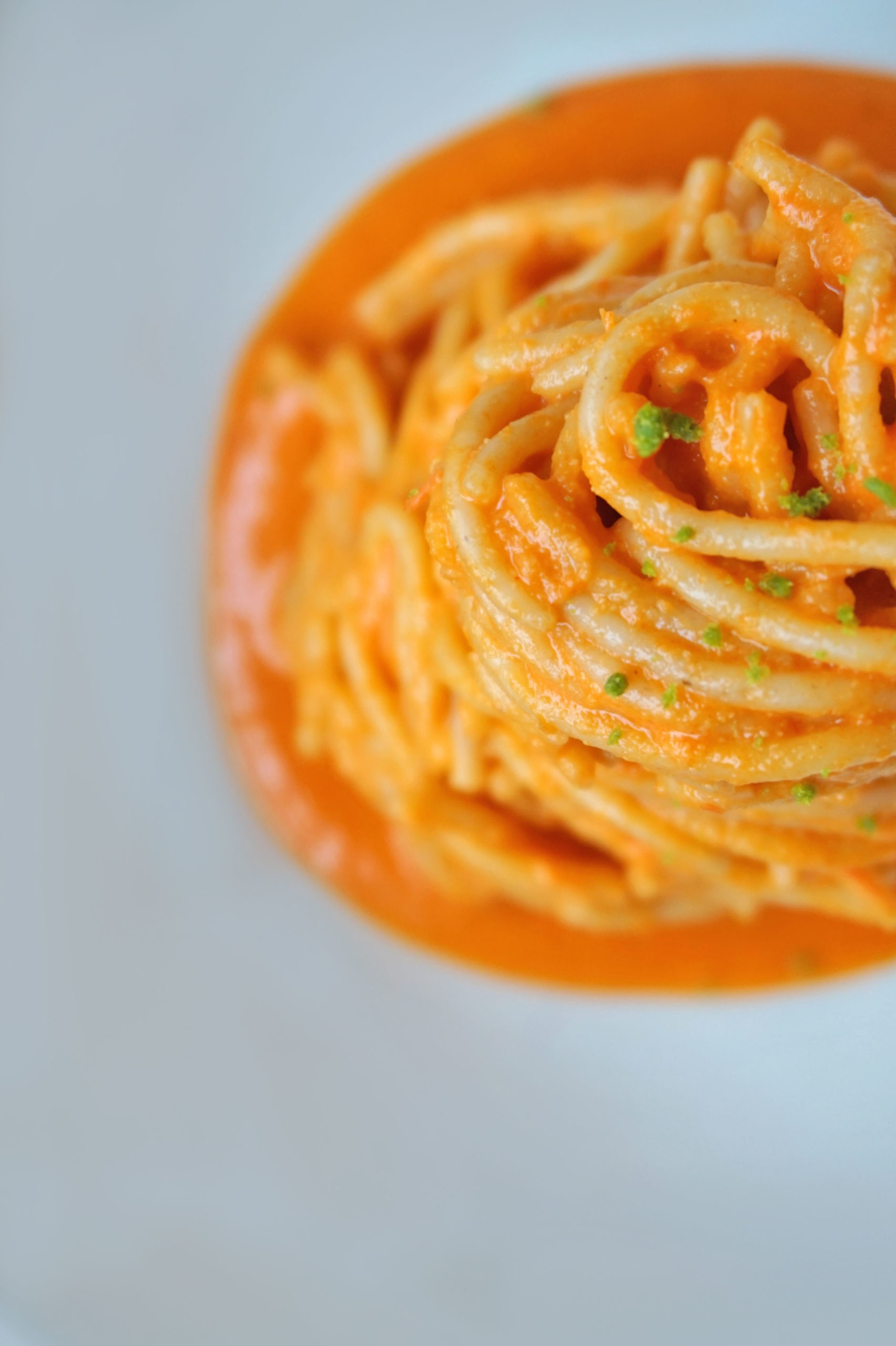 If you make this vegan roasted bell pepper pasta, make sure to tag me on Instagram @vlourish so I can see your recreations!